Final Testament of Yukhok Chatralwa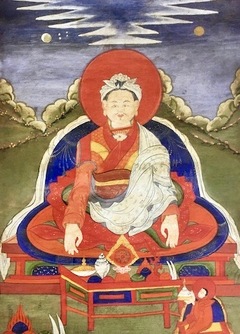 ༄༅། །བླ་མ་དམ་པ་རིག་འཛིན་ཉི་མ་མཆོག་ལ་གཡུ་ཁོག་བྱ་བྲལ་བས་འདས་རྗེས་སུ་བབ་པ།
The Final Testament of Yukhok Chatralwa as Transmitted to Lama Rigdzin Nyima
by Yukhok Chatral Chöying Rangdrol
རིག་པ་འགྱུར་མེད་ཆེན་པོ་ལ་ན་མོ༔
rigpa gyurmé chen po la namo
Homage to great, unchanging rigpa!
ལྟ་བ་རིག་པའི་རྒྱལ་པོ་ལ༔
tawa rigpé gyalpo la
In the view, king-like pure awareness,
སྒོམ་པ་ཕྱོགས་ལྷུང་བྲལ་བར་ཞོག༔
gompa chok lhung dralwa zhok
Let meditation settle, beyond position or bias,
སྤྱོད་པ་གཉིས་འཛིན་འཁྲུལ་བ་ཞིག༔
chöpa nyidzin trulwa zhik
And, as action, let duality and delusion be destroyed.
འབྲས་བུ་སྐུ་གསུམ་ཡེ་རྫོགས་ལ༔
drebu ku sum yé dzok la
The fruition is the already perfect three kāyas,
དམ་ཚིག་སྤང་བླང་ཡུལ་ལས་འདས༔
damtsik pang lang yul lé dé
Beyond samaya commitments involving acceptance and rejection.
རིག་པ་གཅེར་མཐོང་གི་རྒྱལ་པོ༔
rigpa cher tong gi gyalpo
Thus, the king of nakedly seen awareness
ལྟ་སྒོམ་སྤྱོད་འབྲས་ཀྱི་དམ་ཚིག་གི་རྒྱས་བཅས་པ༔
ta gom chö dré kyi damtsik gi gyé chépa
Is sealed with the samayas of view, meditation, action and fruition.
གཡུ་ཁོག་བླ་མ་ཆོས་དབྱིངས་རང་གྲོལ་གྱིས་འདས་རྗེས་སུ་གསུངས་པ་སཱུརྱའི་མིང་གིས་སོ༔
This final testament spoken by Yukhok Lama Chöying Rangdrol was recorded by the one called Sūrya.
| Translated by Adam Pearcey, 2017.