Three Statements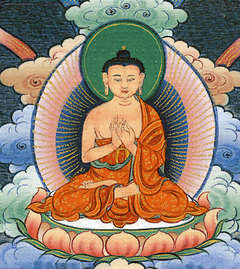 Further information:
༄༅། །ཚིག་གསུམ་གནད་དུ་བརྡེགས་པ།
The Three Statements that Strike the Vital Point
by Garab Dorje
ངོ་རང་ཐོག་ཏུ་སྤྲད།
ngo rang tok tu tré
Introducing directly the face of rigpa itself.
ཐག་གཅིག་ཐོག་ཏུ་བཅད།
tak chik tok tu ché
Deciding upon one thing and one thing only.
གདེང་གྲོལ་ཐོག་ཏུ་བཅའ།
deng drol tok tu cha
Confidence directly in the liberation of rising thoughts.