A Guide to Uḍḍiyāna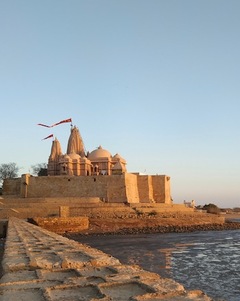 Further information:
A Guide to Uḍḍiyāna (Ujjain)[1]
by Chatral Rinpoché
If on the way to Bhopal[2] you find yourself at Sanchi,[3] then you are already nearly in Uḍḍiyāna. Sanchi is a wonderful place. There is convenient, low cost accommodation near the railway station, and trains run from here to Uḍḍiyāna.[4] Once you get to Uḍḍiyāna, you will find government taxis at the bus station, and guided tours can be arranged as early as six in the morning. The tour guides are specific to Uḍḍiyāna, and—if you understand Hindi—they can give an excellent introduction to each of the sites. It would be a very good idea to visit this place at least once. You can also get there by rickshaw quite cheaply. At the central temple of Mahakaleshwar, one should behold the naturally-arisen spirit stone of Mahākāla, which lies below ground.[5]
Secondly, there is a cave of solid rock called Bharthari Gupha,[6] which is also an amazing sight. Long ago, while one of the kings of Uḍḍiyāna[7] was resting in samādhi here, local spirits began to cause him trouble. A lightning bolt struck a pillar, splitting it down the middle. The mighty king held it up with his hands, leaving an extremely blessed handprint in the stone. To this day, incredibly, one can see the two parts of the pillar still suspended in the air.
Thirdly, close by, there is a statue of Bhairava, Lord of Death, depicted drinking alcohol. Those who know this site bring beer or liquor as offerings to the statue.[8] The surrounding area is dotted with some impressive statues; all of these are forms of Buddhist deities, ultimately. Additionally, there is place called Vajra Cave, and a stūpa surrounded by dense shrubbery and trees. It resembles a small hill, and you have to look carefully to recognize it.[9]
Then, to the northwest of Uḍḍiyāna, lies the Muslim land of Koteshwar.[10] This is also where you will find the amazing and blessed site of Sindhu Gyatsö Rolwé Ling, the Delightful Island of the Sindhu Ocean.[11] Most Indians know of this sacred place but do not actually journey there, since it is too remote. In order to get there from Uḍḍiyāna, you go to Indore,[12] to Ahmedabad,[13] to Bhuj, and then finally to Koteshwar—the island which in Tibetan is called Sindhu Gyatsö Rolwé Ling. When you go to this place on pilgrimage it is good to do so quietly. Otherwise, you may find that you run into difficulties. The main site is the Sindhu Island, but there are also other recognizable sites in the vicinity, including some excellent caves.[14] It is said that every twelve years, out in the middle of the ocean, the water becomes endowed with the eight qualities.[15] As of now, there are still those who go out in boats to collect this water.
Other than this, there is nothing else to say. Enjoy your time in this place, and all your queries will be answered.
| Samye Translations, 2016. (Translated by Kaleb Yaniger, Peter Woods and Stefan Mang. Edited by Libby Hogg.)