Daily Peaceful and Wrathful Deities Practice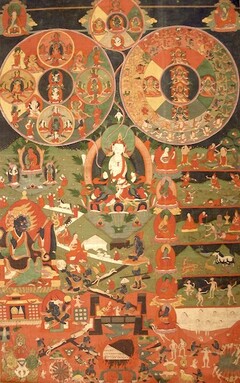 ༄༅། །ཞི་ཁྲོ་དགོངས་པ་རང་གྲོལ་གྱི་རྒྱུན་ཁྱེར་རྣལ་འབྱོར་ཆེན་པོའི་གཞུང་ལམ་ཞེས་བྱ་བ་བཞུགས།
Highway of the Great Yoga
A Daily Practice for the Peaceful and Wrathful Deities of the Self-Liberated Wisdom Mind1
by Dodrupchen Jigme Trinle Özer
ན་མོ༔ མཆོག་གསུམ་རྩ་གསུམ་ངོ་བོ་ཉིད༔
namo, chok sum tsa sum ngowo nyi
Namo! In the essence of the Three Supreme Ones and Three Roots,
རྒྱལ་བ་ཞི་ཁྲོའི་ལྷ་ཚོགས་ལ༔
gyalwa zhitrö lhatsok la
The victorious peaceful and wrathful deities,
སྒོ་གསུམ་གུས་པས་སྐྱབས་སུ་མཆི༔
go sum güpé kyab su chi
In devotion I take refuge with body, speech and mind.
སྨོན་འཇུག་བྱང་ཆུབ་སེམས་མཆོག་བསྐྱེད༔
mönjuk changchub sem chok kyé
I arouse the supreme mind of bodhicitta, in aspiration and action.
ཨཱཿ ཆོས་རྣམས་རང་བཞིན་འོད་གསལ་བའི༔
ah, chö nam rangzhin ösalwé
Āḥ. The nature of all phenomena is clear light,
ཡེ་སྟོང་སྤྲོས་བྲལ་ཀ་དག་མདངས༔
yé tong trödral kadak dang
Primordially empty, free of concepts and alpha pure.
ལྷུན་གྲུབ་རང་ལུས་རྡོ་རྗེ་སེམས༔
lhündrub rang lü dorjé sem
Its radiance, your spontaneously present body, is Vajrasattva.
ལོངས་སྤྱོད་རྫོགས་སྐུའི་ཆས་དང་ལྡན༔
longchö dzok kü ché dangden
Adorned with saṃbhogakāya ornaments,
ཐབས་ཤེས་གཉིས་མེད་རྡོར་དྲིལ་བསྣམས༔
tabshé nyimé dordril nam
He holds vajra and bell, means and insight indivisible.
ཞབས་གཉིས་རྡོ་རྗེ་སྐྱིལ་ཀྲུང་གིས༔
zhab nyi dorjé kyiltrung gi
He sits in cross-legged posture
སེང་ཁྲི་པདྨ་ཉི་ཟླའི་སྟེང་༔
sengtri pema nyidé teng
Upon a lion throne, a lotus, and sun and moon disk seats.
བཞུགས་པའི་སྙིང་གར་ཞི་བའི་ལྷ༔
zhukpé nyinggar zhiwé lha
At his heart are the forty-two peaceful deities,
བཞི་བཅུ་རྩ་གཉིས་འོད་སྐུའི་ཚུལ༔
zhibchu tsa nyi ökü tsul
With bodies of light
མཚན་དཔེ་ཡོངས་རྫོགས་མ་འདྲེས་གསལ༔
tsenpé yongdzok ma dré sal
And all their major and minor marks clear and distinct.
སྤྱི་བོར་ཁྲག་འཐུང་ལྔ་བཅུས་བརྒྱན༔
chiwor traktung ngabchü gyen
His head is adorned with the fifty herukas.
རང་རང་ཆ་ལུགས་རྣམ་འགྱུར་རྫོགས༔
rang rang chaluk namgyur dzok
Their garments and appearances are perfect.
མགྲིན་པར་རིག་འཛིན་དཔའ་བོ་དང་༔
drinpar rigdzin pawo dang
At his throat are hosts of vidyādharas, heroic ones
མཁའ་འགྲོའི་ཚོགས་རྣམས་སྒྱུ་འཕྲུལ་གཟུགས༔
khandrö tsok nam gyutrul zuk
And ḍākinīs in illusory forms.
ལྟེ་བར་མཁའ་འགྲོ་སྡེ་ལྔ་ལ
tewar khandro dé nga la
At his navel are the five classes of ḍākinīs
གནས་གསུམ་མཁའ་འགྲོའི་ཚོགས་ཀྱིས་བསྐོར༔
né sum khandrö tsok kyi kor
Surrounded by hosts of ḍākinīs of the three abodes.
བ་སྤུའི་བུ་ག་ཐམས་ཅད་ཀུན༔
bapü buga tamché kün
All the pores of his body are filled
རིག་འཛིན་མཁའ་འགྲོ་རྒྱ་མཚོས་གཏམས༔
rigdzin khandro gyatsö tam
With oceans of vidyādharas and ḍākinīs,
མཐའ་སྐོར་མཁའ་འགྲོ་ཆོས་སྐྱོང་དང་༔
takor khandro chökyong dang
Themselves surrounded by ḍākinīs, dharma protectors,
གཏེར་སྲུང་དམ་ཅན་རྒྱ་མཚོས་བསྐོར༔
tersung damchen gyatsö kor
And an ocean of oath-bound treasure guardians
དེ་ཕྱིར་མ་བསྐྱེད་ཡོངས་གྲུབ་ལྷར༔
dechir ma kyé yongdrub lhar
The deity, unborn and thoroughly established, is clearly visualized.
གསལ་བའི་སྤྱི་བོར་ཨོཾ་དཀར་པོ༔
salwé chiwor om karpo
At his forehead is a white oṃ,
མགྲིན་པར་ཨཱཿདམར་ཐུགས་ཀར་ཧཱུྃ༔
drinpar ah mar tukkar hung
At his throat a red āḥ and at his heart a hūṃ.
རྒྱལ་ཀུན་གསང་གསུམ་ངོ་བོར་བསམ༔
gyal kün sang sum ngowor sam
Consider that these are the essence of the three secrets of all the buddhas.
དེ་ཡང་སྣང་སྟོང་སྐུ་དང་ནི༔
deyang nangtong ku dang ni
Empty appearances are the enlightened body,
གྲགས་སྟོང་གསུང་དང་དྲན་རྟོག་ཐུགས༔
drak tong sung dang dren tok tuk
Empty sounds the enlightened speech, and thoughts the enlightened mind.
ཞི་ཁྲོའི་རང་བཞིན་ཉིད་གྱུར་ནས༔
zhitrö rangzhin nyi gyur né
When everything becomes the nature of the peaceful and wrathful deities
འཁོར་འདས་སྐུ་གསུམ་ཀློང་དུ་གྱུར༔
khordé ku sum long du gyur
Saṃsāra and nirvāṇa transform into the expanse of the three kāyas.
ཨོཾ་ཨཱཿཧཱུྃ་བོ་དྷི་ཙིཏྟ་མ་ཧཱ་སུ་ཁ་ཛྙཱ་ན་དྷཱཏུ་ཨཱ༔ ཨོ་རུ་ལུ་རུ་ལུ་ཧཱུྃ་བྷྱོ་ཧཱུྃ༔
om ah hung bodhitsitta maha sukha jnana dhatu a | om rulu rulu hung jo hung
oṃ āḥ hūṃ bodhicitta-mahāsukha rulu rulu hūṃ bhyo hūṃ
ཅི་ནུས་བཟླས་མཐར་མཆོད་བསྟོད་བྱ་
Recite as much as you can. At the end, present offerings and praise.
མཆོད་པ་ནི།
Offerings
ཨོཾ་བཛྲ་པུཥྤེ་དྷུ་པེ་ཨཱ་ལོ་ཀེ་གནྡྷེ་ནེ་ཝི་ཏྱ་ཤཔྟ་པཱུ་ཙ་ཧོ༔
om benza puspé dhupé aloké gendhé néwitya shapta putsa ho
oṃ vajra puṣpe dhūpe āloke gandhe naivedye śabda pūja hoḥ
བསྟོད་པ་ནི།
Praise
བརྗོད་མེད་ཤེས་རབ་མི་གཡོ་ཆོས་ཀྱི་སྐུ
jömé sherab mi yo chö kyi ku
Inexpressible wisdom, which is the immovable dharmakāya;
བདེ་ཆེན་ལོངས་སྤྱོད་རྫོགས་སྐུ་རིགས་ལྔའི་གཙོ༔
dechen longchö dzok ku rik ngé tso
Lords of the five families, the sambhogakāya of great bliss;
ཐུགས་རྗེ་ཐབས་མཁས་རྒྱ་ཆེ་རོལ་པའི་ལྷ།
tukjé tabkhé gyaché rolpé lha
And deities who display vast compassion and skilful means,
ཞི་ཁྲོ་སྐུ་གསུམ་ལྷ་ལ་ཕྱག་འཚལ་བསྟོད༔
zhitro ku sum lha la chaktsal tö
Peaceful and wrathful deities of the three kāyas: to you I pay homage!2
དགེའོ། །སརྦ་མངྒ་ལཾ།
Let there be virtue! Sarva maṅgalam!
བསྡུ་རིམ་ལ་སོགས་རྗེས་ཆོས་རྣམས༔ མི་དགོས་བརྗོད་བྲལ་ངང་ལ་བཞག༔
There is no need for concluding rituals such as the stages of dissolution; just rest in the inexpressible state.
ལེགས་དགོན་སྤྲུལ་པའི་སྐུས༔ བསྐུལ་ངོར་རྡོ་བླས་སྤེལ་བ་དགེའོ༔
This was written by Dola at the request of Lekgön Tulku. May virtue abound!
| Translated by Han Kop for the Longchen Nyingtik Project, 2021. With gratitude to Tulku Dawa Zangpo for providing the text.
Sources: 'Jigs med 'phrin las 'od zer. "zhi khro dgongs pa rang grol gyi rgyun khyer rnal 'byor chen po'i gzhung lam" in gsung 'bum/ 'jigs med phrin las 'od zer. W4PD1630. 10 Vols. khren tu'u: bla ma bsod dar, 2014. Vol. 8: pages 265 – 66.
'Jigs med 'phrin las 'od zer. "zhi khro dgongs pa rang grol gyi rgyun khyer rnal 'byor chen po'i gzhung lam". Gangtok, Sikkim: Dodrup chen Rinpoche, [n.d.]. Pages 1–3.
Version: 1.1-20211213
↑ zhi khro dgongs pa rang grol, revealed in the fourteenth century by the tertön Karma Lingpa.
↑ This verse is adapted from the The Ultimate Inexpressible Confession https://www.lotsawahouse.org/words-of-the-buddha/yeshe-kuchokma