Dzogchen Aspiration Prayer
English | Português | 中文 | བོད་ཡིག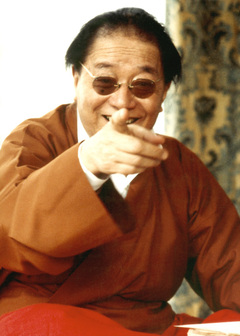 Further information:
༄༅། །རྫོགས་ཆེན་སྨོན་ལམ་བཞུགས།
Dzogchen Aspiration Prayer1
by Dudjom Rinpoche
འཁོར་འདས་མཉམ་ཉིད་ལྟ་བའི་གདིངས་ཆེན་ཐོབ། །
khor dé nyam nyi tawé ding chen tob
May we obtain the great confidence of the View of the perfect equality of both saṃsāra and nirvāṇa.
མ་བཅོས་རང་བབས་སྒོམ་པའི་རྩལ་ཆེན་རྫོགས། །
ma chö rang bab gompé tsal chen dzok
May we greatly perfect and strengthen Meditation, which is naturally resting in the unaltered state.
བྱར་མེད་ཤུགས་འབྱུང་སྤྱོད་པའི་བོགས་ཆེན་འབྱོངས། །
char mé shukjung chöpé bok chen jong
May we gain greater skill in the Action, which is natural and spontaneous non-action.
སྤང་ཐོབ་བྲལ་བའི་ཆོས་སྐུ་རང་རྙེད་ཤོག །
pang tob dralwé chöku rang nyé shok
May we naturally discover the Dharmakāya, which is beyond gaining and losing.
ཛྙཱ་ནས་སོ།།
by Jñāna
| © Rigpa Translations. Revised and updated for Lotsawa House, 2017.
Source: Unpublished manuscript, courtesy of Sogyal Rinpoche.
Version: 2.1-20220117
↑ The original is untitled; this title has been added by the translators.