Guru Yoga Pacifying Heart Sickness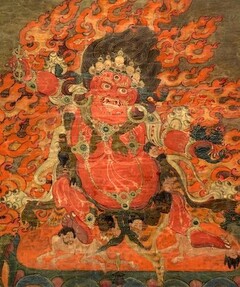 Further information:
༄༅། །རྒྱལ་གདོན་སྙིང་ནད་ཞི་བའི་བླ་མའི་རྣལ་འབྱོར་བཞུགས།
Guru Yoga for Pacifying Spirits and Sickness of the Heart
by Jamyang Khyentse Chökyi Lodrö
པདྨ་གུ་རུ་ལ་ན་མོ།
Homage to the Lotus Guru!
ཨཿ རང་གི་སྤྱི་བོར་པད་ཉི་དང་། །
ah, rang gi chiwor pé nyi dang
Aḥ, at my crown, upon seats of lotus, sun-disc
རྒྱལ་བསེན་ཕོ་མོའི་གདན་སྟེང་དུ། །
gyal sen pomö den tengdu
And male and female spirits, gyalpo and senmo,
རྩ་བའི་བླ་མ་གུ་རུ་རྗེ། །
tsawé lama guru jé
Is my root teacher, the most excellent guru,
ཁྱབ་བདག་པདྨ་དྲག་པོ་ནི། །
khyabdak pema drakpo ni
In the form of the all-pervasive Wrathful Padma.
དམར་ནག་ཞལ་གཅིག་ཕྱག་གཉིས་པ། །
marnak zhal chik chak nyipa
He is dark red with one face and two hands,
རྡོ་རྗེ་སྡིག་འཛིན་ཁྲོ་ཆས་རྫོགས། །
dorjé dik dzin tro ché dzok
Holding vajra and scorpion, and in wrathful attire.
གནས་ལྔར་གཤིན་རྗེ་རྟ་མགྲིན་དང་། །
né ngar shinjé tamdrin dang
At his five places are Yamāntaka, Hayagrīva,
ཕྱག་རྡོར་ཕག་མོ་མེ་དབལ་རྣམས། །
chakdor pakmo mewal nam
Vajrapāṇi, Vajravārāhī, and Mebal,
རང་རང་རྒྱན་དང་ཕྱག་མཚན་འཛིན། །
rang rang gyen dang chaktsen dzin
Each with their own adornments and implements.
ཐུགས་ཀར་རིག་འཛིན་ཀློང་གསལ་སྙིང་། །
tukkar rigdzin longsal nying
At his heart is the vidyādhara Longsal Nyingpo,
སྔགས་ཆས་རྡོ་རྗེ་ལྕགས་སྡིག་འཛིན། །
ngak ché dorjé chakdik dzin
Dressed as a mantra practitioner and holding a vajra and iron scorpion.
རྔམས་བརྗིད་དཔལ་དང་ལྡན་པར་བསྒོམ། །
ngam ji pal dang denpar gom
I visualize them as awesome, majestic and resplendent,
གནས་གསུམ་རྡོ་རྗེ་གསུམ་གྱིས་མཚན། །
né sum dorjé sum gyi tsen
Their three centres marked by the three vajras,
དམ་ཚིག་ཡེ་ཤེས་དབྱེར་མེད་བསྒོམ། །
damtsik yeshe yermé gom
And consider that samayasattva and jñānasattva merge indivisibly.
གསོལ་འདེབས་ནི།
Prayer
རྗེ་བཙུན་པདྨ་ཐོད་ཕྲེང་རྩལ། །
jetsün pema tötreng tsal
Precious, exalted Pema Tötreng Tsal,
དྲག་པོ་ཡེ་ཤེས་རབ་འབར་དང་། །
drakpo yeshe rab bar dang
Radiantly ablaze with wisdom wrath,
དབྱེར་མེད་ཀློང་གསལ་སྙིང་པོ་ལ། །
yermé longsal nyingpo la
And the inseparable Longsal Nyingpo—
སྙིང་ནས་གུས་པས་གསོལ་བ་འདེབས། །
nying né güpé solwa deb
In devotion, I pray to you from the depths of my heart:
གེགས་ཞི་བསམ་དོན་ལྷུན་གྲུབ་ཤོག །
gek zhi samdön lhündrub shok
Pacify hindrances and cause my wishes to be spontaneously fulfilled.
ཅེས་གྲངས་མང་གསོགས།
Accumulate this as many times as possible.
བླ་མའི་སྐུ་ལས་འོད་ཟེར་ནི། །
lamé ku lé özer ni
Rays of light emerge from the guru's body
བདུད་རྩིའི་ཆུ་རྒྱུན་དཀར་ལ་དམར། །
dütsi chugyün kar la mar
Bringing a stream of red and white nectar,
དཔག་མེད་བབས་ནས་ལུས་ཀུན་གང་། །
pakmé bab né lü kün gang
Which flows endlessly, suffusing my whole body.
སྙིང་གི་ནད་རྣམས་སེལ་བ་དང་། །
nying gi né nam selwa dang
It clears away all sickness of the heart,
བདུད་རྩིས་ལུས་ཀུན་ཁེངས་པར་མོས། །
dütsi lü kün khengpar mö
And fills my form entirely with nectar.
མཐར་ནི་བླ་མ་མར་བྱོན་ཏེ། །
tar ni lama mar jön té
Finally, the guru descends
ཙིཏྟ་སྨུག་པོའི་མཆོང་གུར་ནང་། །
tsitta mukpö chong gur nang
To the dark agate tent at my heart,
འབྲལ་བ་མེད་པར་བཞུགས་པར་བསམས། །
dralwa mepar zhukpar sam
In which he remains inseparably,
ཐུགས་ཡིད་བསྲེས་ལ་མཉམ་པར་བཞག །
tuk yi sé la nyampar zhak
And I settle in the union of mind and wisdom.
དགེ་བསྔོ་བྱའོ། །
Dedicate the virtue.
ཞེས་པའང་མེ་བྱ་ཟླ་༡ ཚེས་༡༤ ལ་འབྲས་ལྗོངས་གནས་ནང་དུ་པདྨ་ཡེ་ཤེས་རྡོ་རྗེའི་ཡིད་ལ་འཆར་བ་བཞིན་བྲིས་པ་དུས་ངན་རྒྱལ་གདོན་གྱི་གནོད་པ་ལ་མཆོག་ཏུ་ཕན་པའི་རྒྱུར་གྱུར་ཅིག །།།
Thus, on the fourteenth day of the first month1 of the Fire Bird year in the sacred land of Sikkim, Pema Yeshe Dorje wrote this according to what arose in his mind. May it become supremely beneficial against the harm caused by gyalpo spirits during these evil times.
| Translated by Adam Pearcey with the generous support of the Khyentse Foundation and Tertön Sogyal Trust, 2022
Sources:
'jam dbyangs chos kyi blo gros. "rgyal gdon snying nad zhi ba'i bla ma'i rnal 'byor/" in gsung thor bu/_'jam dbyangs chos kyi blo gros/ (rgya gar bir'i par ma/). BDRC W21814. 2 vols. null: null, null. Vol. 1: 334–335
'jam dbyangs chos kyi blo gros. "rgyal gdon snying nad zhi ba'i bla ma'i rnal 'byor/" in 'Jam dbyangs chos kyi blo gros kyi gsung 'bum. 12 vols. Bir: Khyentse Labrang, 2012. W1KG12986. Vol. 4: 63–64
Version: 1.0-20220914
↑ The 2012 edition has tenth month, but we have here followed the two-volume gsung thor bu edition, which has first month, because it is older and also because we know from other sources that Jamyang Khyentse was not in Sikkim during the tenth month.