Prayer for Spread of Teachings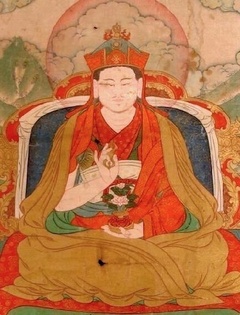 Further information:
༄༅། །བསྟན་རྒྱས་སྨོན་ལམ།
Aspiration for the Spread of the Teachings
by Jamyang Khyentse Chökyi Lodrö
ཨོཾ་སྭསྟི།
om svasti
Oṃ svasti.
སྔ་འགྱུར་བཀའ་གཏེར་བསྟན་པ་རྒྱ་མཚོའི་བདག །
ngagyur kater tenpa gyatsö dak
Master of the oceanic teachings of the Ancient Translations, kama and terma,
ཨོ་རྒྱན་མཆོག་གྱུར་བདེ་ཆེན་ཞིག་པོ་གླིང་། །
orgyen chokgyur dechen zhikpo ling
Orgyen Chokgyur Dechen Shikpo Lingpa,
ཡོངས་རྫོགས་བསྟན་པའི་མངའ་བདག་མཁྱེན་བརྩེའི་དབང་། །
yongdzok tenpé ngadak khyentsé wang
Sovereign of all the teachings, Khyentse Wangpo,
མཛོད་ལྔའི་ཤིང་རྟ་བློ་གྲོས་མཐའ་ཡས་ཀྱི། །
dzö ngé shingta lodrö tayé kyi
And pioneer of the Five Treasuries, Lodrö Thayé—
རིང་ལུགས་མི་ཉམས་བླ་ནས་བླར་འཕེལ་ཤོག །
ringluk mi nyam lané lar pel shok
May your tradition never fade but grow further and further.
ཆོས་འཁོར་རྣམ་གསུམ་རྟེན་མཆོག་འགྱུར་བ་མེད། །
chökhor nam sum ten chok gyurwamé
May this supreme, unchanging support for the three turnings of the Dharma Wheel,1
མི་ནུབ་བསྟན་པའི་བཙས་སུ་བཞུགས་པའི་གླིང་། །
mi nub tenpé tsé su zhukpé ling
This sanctuary where the teachings remain without ever fading,
ཁྲིམས་ལྡན་འདུས་པའི་ཚོགས་ཀྱི་ཡོངས་གང་ནས། །
trimden düpé tsok kyi yong gangné
Be filled with disciplined members of the saṅgha community,
ལུང་རྟོགས་བསྟན་པ་དར་རྒྱས་ཡུན་གནས་ཤོག །
lungtok tenpa dargyé yün né shok
And may the teachings of scripture and realization flourish and endure.
ཆོས་སྤྱོད་བཅུ་ཡི་བྱ་བར་རྟག་ཏུ་བརྩོན། །
chöchö chuyi jawar taktu tsön
May everyone exert themselves continuously in the ten dharmic activities.2
སྤང་དང་ཀློག་པའི་ཕྲིན་ལས་རྒྱུན་མི་ཆད། །
pang dang lokpé trinlé gyün mi ché
May the activities of renunciation and study continue without interruption.
དགེ་འདུན་མི་ཕྱེད་བདེན་པའི་མཐུ་སྟོབས་ཀྱིས། །
gendün miché denpé tutob kyi
And through the power and strength of the saṅgha's true indivisibility,
བསྟན་པ་ཕྱོགས་བརྒྱར་འཕེལ་བའི་བཀྲ་ཤིས་ཤོག །
tenpa chok gyar pelwé tashi shok
May all be auspicious for the teachings to spread in a hundred directions.
ཅེས་པའང་སྨིན་ཟླའི་ཚེས་༣ལ་གསང་སྔགས་སྟོང་གི་ཡང་རྩེར་འཇམ་དབྱངས་བློ་གྲོས་རྒྱ་མཚོ་དཔལ་བཟང་པོས་གསོལ་བ་བཏབ་པ་འཇིག་རྟེན་གསུམ་ན་དགེ་ལེགས་ཀྱི་སྣང་བ་ཆེན་པོས་ཁྱབ་པར་གྱུར་ཅིག །ཤུ་བྷཾ།། །།
This prayer was offered by Jamyang Lodrö Gyatso Palzangpo on the third day of the kārtika (tenth) month at the very top of the Sang-ngak Podrang.3 May the light of virtue and excellence flood throughout the three worlds. Śubham.
| Translated by Adam Pearcey with the generous support of the Khyentse Foundation and Tertön Sogyal Trust, 2020.
Source: 'Jam dbyangs chos kyi blo gros. "bstan rgyas smon lam/" in 'Jam dbyangs chos kyi blo gros kyi gsung 'bum. 12 vols. Bir: Khyentse Labrang, 2012. W1KG12986 Vol. 12: 331
Version: 1.2-20220411
↑ This and following line incorporate the syllables of the name Tenchok Gyurme Ling (rten mchog 'gyur med gling), the monastery of Chokgyur Lingpa, better known as Neten Monastery.
↑ i.e., copying texts, making offerings, charity, study, reading, memorizing, explaining, reciting aloud, contemplating and meditating.
↑ Reading gsang sngags stong as gsang sngags pho brang, as the latter when written in shorthand script (bskungs yig/bsdus yig) could resemble the former. The Sang-ngak Podrang was Chokgyur Lingpa's residence at Neten Monastery.