Prayer to Ngawang Samten Lodrö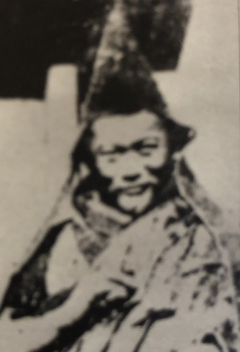 ༄༅། །ངག་དབང་བསམ་གཏན་བློ་གྲོས་ཀྱི་གསོལ་འདེབས།
Prayer to Ngawang Samten Lodrö1
by Jamyang Khyentse Chökyi Lodrö
ཨོཾ་སྭསྟི།
om svasti
Oṃ svasti.
ངག༵་དབ༵ང་འཇམ་དཔལ་ཁྲོས་པའི་རྣལ་འབྱོར་པ། །
ngawang jampal tröpé naljorpa
Yogin of wrathful Mañjuśrī, the lord of speech,
བས༵མ་གཏན༵་ཏིང་འཛིན་བློ༵་གྲོས༵་ཟབ་མོའི་གཏེར། །
samten tingdzin lodrö zabmö ter
Treasury of profound meditation, absorption and intelligence,
བློ་གསལ་རྒྱ་མཚོའི་སྙན༵་བརྒྱུད༵་འཛིན་པའི་ཕུལ། །
losal gyatsö nyengyü dzinpé pul
Preeminent holder of the whispered lineage of Losal Gyatso,
བསྟན༵་པའི༵་རྒྱལ༵་མཚ༵ན་ཞབས་ལ་གསོལ་བ་འདེབས། །
tenpé gyaltsen zhab la solwa deb
Tenpai Gyaltsen, 'Victory Banner of the Teachings', at your feet I pray.2
དོན་གཉིས་ལྷུན་གྲུབ་དཔ༵ལ་ལྡན་བཟ༵ང་པོ༵་ཡི། །
dön nyi lhündrub palden zangpo yi
May the blessings of your splendid and excellent three secrets,
གསང་གསུམ་བྱིན་བརླབ་རྒྱུད་ལ་ཞུགས་པ་དང་། །
sang sum jin lab gyü la zhukpa dang
Which spontaneously accomplish the twofold aim, infuse my mind,
ཚད་མ་བཞི་ལྡན་སྙན་བརྒྱུད་ཟབ་མོ་ཡི། །
tsema zhiden nyengyü zabmo yi
And may the precious teachings of the profound Whispered Lineage,
བསྟན་པ་རིན་ཆེན་དར་ཞིང་རྒྱས་པར་ཤོག །
tenpa rinchen dar zhing gyepar shok
Valid in the four ways,3 flourish and spread far and wide!
ཅེས་པའང་བློ་གྲོས་རྒྱ་མཚོས་གསོལ་བ་བཏབ་པའོ།། །།
Thus, Lodrö Gyatso prayed.
| Translated by Adam Pearcey with the generous support of the Khyentse Foundation and Tertön Sogyal Trust, 2022.
Source: 'Jam dbyangs chos kyi blo gros. 'Jam dbyangs chos kyi blo gros kyi gsung 'bum. 12 vols. Bir, H.P.: Khyentse Labrang, 2012. (BDRC W1KG12986). Vol. 3: 187
Version: 1.0-20221219
↑ The original is untitled; this title has been added by the translator.
↑ This verse incorporates syllables from Ngawang Lodrö Samten's full name, Ngawang Samten Lodrö Nyengyü Tenpai Gyaltsen, which translates (roughly) as Lord of Speech, Intelligence Born of Meditation, Victory Banner of the Teachings of the Whispered Lineage/Transmission.
↑ Valid scripture (lung tshad ma), valid commentaries (bstan bcos tshad ma), valid teachers (bla ma tshad ma) and valid experience (nyams myong tshad ma).