Khyentse Chökyi Lodrö Long-Life Prayer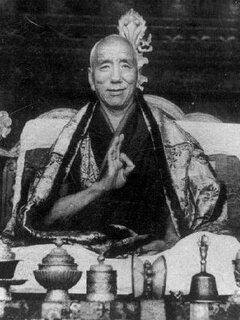 Further information:
༄༅། །ཆོས་ཀྱི་བློ་གྲོས་ཀྱི་ཞབས་བརྟན་གསོལ་འདེབས།
Prayer for the Long Life of Jamyang Khyentse Chökyi Lodrö1
by Jamyang Khyentse Chökyi Lodrö
ཨོཾ་སྭསྟི།
om swasti
Oṃ svasti!
འཇམ་དཔལ་དབྱངས་དངོས་ཚངས་པ་ལྷའི་མེ་ཏོག །
jampal yang ngö tsangpa lhé metok
Tsangpa Lha'i Metok,2 Mañjughoṣa in person,
བསམ་བཞིན་བྱོན་པ་ཀུན་མཁྱེན་མདོ་སྔགས་གླིང་། །
samzhin jönpa künkhyen do ngak ling
Intentionally took birth as the all-knowing Do-ngak Lingpa,3
གང་གི་ཕྲིན་ལས་སྟོབས་དཔལ་ཡོངས་རྫོགས་པ། །
gang gi trinlé tob pal yongdzokpa
Whose activity, strength and splendour are all complete in you—
ཆོས་ཀྱི་བློ་གྲོས་ཞབས་ལ་གསོལ་བ་འདེབས།
chökyi lodrö zhab la solwa deb
Chökyi Lodrö, at your feet I pray.
པད་ཡུན་བརྟན་གསོལ། །
Long-life prayer:
ལང་འགྲོ་ལོ་ཙཱ་བློ་བཟང་རྒྱ་མཚོ་སོགས། །
langdro lotsa lobzang gyatso sok
Langdro Lotsāwa, Lobzang Gyatso and the rest,
དངོས་སྣང་བཀའ་བབས་བདུན་ལྡན་ཤིང་རྟ་ཆེའི། །
ngö nang kabab dünden shingta ché
Directly appeared as the great pioneer of seven forms of transmission,
མཆོག་གི་སྤྲུལ་སྐུ་བཀའ་གཏེར་རྒྱ་མཚོའི་བདག །
chok gi tulku kater gyatsö dak
Whose supreme emanation you are, a master of an ocean of kama and terma—
སྙིང་ནས་གསོལ་བ་འདེབས་སོ་བྱིན་གྱིས་རློབས། །
nying né solwa deb so jingyi lob
To you I pray from the depths of my heart: inspire me with your blessings.
ཞབས་པད་རྡོ་རྗེའི་ཁྲི་ལ་རྟག་བཞུགས་གསོལ། །
zhabpé dorjé tri la tak zhuk sol
May you remain with your lotus feet forever secure upon the vajra throne.
དེང་ནས་བཟུང་སྟེ་བྱང་ཆུབ་སྙིང་པོའི་བར། །
deng né zung té changchub nyingpö bar
From this moment on, until I reach the essence of awakening,
འབྲལ་བ་མེད་པར་རྟག་པར་རྗེས་བཟུངས་ཤིང་། །
dralwa mepar takpar jé zung shing
May you always guide and care for me, without ever parting,
བསྟན་དང་འགྲོ་ལ་བདེ་སྐྱིད་འབྱུང་བ་དང་། །
ten dang dro la dekyi jungwa dang
May the teachings and beings meet with happiness and success,
རང་གཞན་དོན་གཉིས་ལྷུན་གྱིས་འགྲུབ་པར་ཤོག །
rangzhen dönnyi lhüngyi drubpar shok
And may I spontaneously accomplish my own and others' benefit.
ཅེས་པའང་མཁར་ཆུའི་དབུ་མཛད་བླ་མ་པདྨས་གསུང་བསྐུལ་ངོར་རང་ཉིད་ཀྱི་བྲིས་པ་དགེ་ཤིང་བཀྲ་ཤིས་པར་གྱུར་ཅིག །
Thus, I wrote this myself in response to a request from Lama Pema, a chant-master of Kharchu. May it prove virtuous and auspicious!
| Translated by Adam Pearcey with the generous support of the Khyentse Foundation and Tertön Sogyal Trust, 2022.
Source: 'Jam dbyangs chos kyi blo gros. 'Jam dbyangs chos kyi blo gros kyi gsung 'bum. 12 vols. Bir, H.P.: Khyentse Labrang, 2012 (BDRC W1KG12986). Vol. 3: 539
Version: 1.0-20221024
↑ The original is untitled; this title has been added by the translator.
↑ King Tri Songdetsen.
↑ Jamyang Khyentse Wangpo (1820–1892).