Wayfaring Offering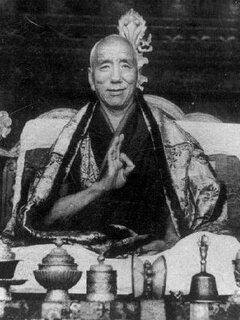 Further information:
༄༅། །དཀོན་མཆོག་རྩ་གསུམ་སོགས་ཀྱི་ལམ་བསང་།
Wayfaring Offering1
by Jamyang Khyentse Chökyi Lodrö
ཨོཾ་ཨཱཿཧཱུྃཿ
om ah hung
oṃ āḥ hūṃ
དཀོན་མཆོག་རྩ་གསུམ་ཆོས་སྐྱོང་ནོར་ལྷ་དང་། །
könchok tsa sum chökyong norlha dang
The Three Jewels, Three Roots, dharma protectors, wealth deities,
གནས་གཏེར་བདག་པོ་གཞི་བདག་ཚོགས་རྣམས་དང་། །
né ter dakpo zhidak tsok nam dang
Custodians of place and treasure, local guardian spirits,
ཁྱད་པར་སྒྲོལ་མ་པད་འབྱུང་འོད་ཟེར་ཅན། །
khyepar drolma pejung özer chen
And especially Tārā, Padmasambhava, Mārīcī,
མ་གཅིག་དཔལ་ལྷ་ཞིང་སྐྱོང་དུར་ཁྲོད་བདག །
ma chik pal lha zhingkyong durtrö dak
One Mother, Palden Lhamo, Shingkyongma, Durtrö Lhamo,
གཡུ་སྒྲོན་ཚེ་རིང་མ་དང་ཐང་ལྷ་དང་། །
yudrön tseringma dang tang lha dang
Yudrönma, Tseringma, Nyenchen Tanglha,
གེ་སར་རྡོར་ལེགས་ལ་སོགས་ལམ་སྲུང་རྣམས། །
gesar dorlek lasok lam sung nam
Gesar, Dorje Lekpa, and the rest—all you guardians of the way,
འདོད་ཡོན་བདུད་རྩིའི་སྐྱེམས་ཕུད་འདི་བཞེས་ལ། །
döyön dütsi kyem pü di zhé la
Accept this first portion of the drink of nectar that delights the senses,
རྣལ་འབྱོར་བདག་ཅག་སྲུངས་ཤིང་སྐྱོབས་པ་དང་། །
naljor dakchak sung shing kyobpa dang
Guard and protect us yogins and yoginīs,
ཁ་འཛིན་རྒྱབ་བརྟེན་སྡོང་གྲོགས་མཛད་དུ་གསོལ། །
kha dzin gyab ten dongdrok dzé du sol
And guide, assist and support us, we pray.
དགྲ་ཇག་ཆོམ་རྐུན་གནོད་པ་ཐམས་ཅད་བཟློག །
dra jak chomkün nöpa tamché dok
Ward off all harm from enemies, bandits, thieves and robbers,
བདག་ཅག་གར་འགྲོ་གར་གནས་བཀྲ་ཤིས་ཤོག །
dakchak gar dro gar né tashi shok
And make everything auspicious wherever we go, wherever we stay.
ཅེས་པའང་ཤིང་ལུག་ཟླ་༦ཚེས་ལ་སོག་གི་གད་དམར་ཡར་རྒྱབ་རྟ་རྒྱུགས་ཐང་དུ་བྲིས་པའོ།། །།
Written during the sixth month of the Wood Sheep year while on the horse-racing plain of Yargyab in Sokgi Gemar.
| Translated by Adam Pearcey with the generous support of the Khyentse Foundation and Tertön Sogyal Trust, 2020.
Source: 'Jam dbyangs chos kyi blo gros. "sgrol ma sogs kyi lam bsang /" in 'Jam dbyangs chos kyi blo gros kyi gsung 'bum. 12 vols. Bir: Khyentse Labrang, 2012. W1KG12986 Vol. 11: 483
↑ The editors of the 2012 edition of Jamyang Khyentse's collected writings have labelled this originally untitled text as a lam bsang, which translates (roughly) as "Wayfaring Offering of Incense Smoke", but the text itself makes no mention of smoke offering and refers only to a serkyem, or golden drink. The English title has thus been kept deliberately vague.