Droltik Longevity Practice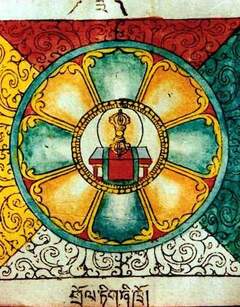 ༄༅། །གྲོལ་ཏིག་ཞི་ཁྲོའི་ཚེ་སྒྲུབ།
Longevity Practice for the Peaceful and Wrathful Deities of Droltik
by Jamyang Khyentse Wangpo
ཞི་ཁྲོ་རབ་འབྱམས་ཐུགས་སྲོག་ལས། །
zhitro rabjam tuk sok lé
From the life-force of the infinite peaceful and wrathful deities,
འོད་འཕྲོས་འཁོར་འདས་ཚེ་བཅུད་བསྡུས། །
ö trö khordé tsechü dü
Light shoots out to gather the vitality of all saṃsāra and nirvāṇa,
བདག་དང་སྒྲུབ་པའི་རྫས་ལ་བསྟིམ། །
dak dang drubpé dzé la tim
Which dissolves into me and the substances of accomplishment,
འཆི་མེད་རྡོ་རྗེའི་སྲོག་འགྲུབ་གྱུར། །
chimé dorjé sok drub gyur
Establishing the vajra life-force of immortality.
སྔགས་མཐར།
At the end of the mantra add:
བཛྲ་ཨཱ་ཡུ་ཥེ་སྭཱ་ཧཱ།
benza ayukhé soha
vajra āyuṣe svāhā
རྗེ་མཁྱེན་བརྩེའི་དབང་པོའི་ཕྱག་བྲིས་དངོས་ལས་ཞལ་བཤུས། མཁྱེན་བརྩེ་གོང་མའི་གསུང་འདི་དཔེ་རྒྱུན་ལ་བསམ་ནས་འདིར་བཀོད་པ་ལགས།། །།
This was copied from Lord Khyentse Wangpo's own handwriting. These words of the former Khyentse have been set down here in consideration of the textual transmission.
| Translated by Adam Pearcey with the generous support of the Khyentse Foundation and Tertön Sogyal Trust, 2022.
Source: 'Jam dbyangs mkhyen brtse'i dbang po. "Grol tig zhi khro'i tshe sgrub/" in 'Jam dbyangs chos kyi blo gros kyi gsung 'bum. 12 vols. Bir, H.P.: Khyentse Labrang, 2012. (BDRC W1KG12986). Vol. 6: 313
Version: 1.0-20220727