Prayer to Padmasambhava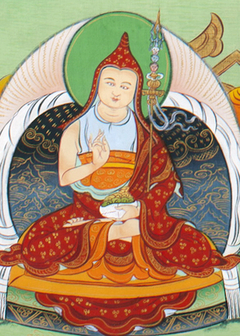 Further Information:
༄༅། །གསོལ་འདེབས་རྒྱ་གར་པཎ་ཆེན་མ་བཞུགས།
Prayer to the Indian Mahāpaṇḍita Padmasambhava
attributed to Menlungpa Mikyö Dorje
རྒྱ་གར་པཎ་ཆེན་བོད་ལ་བཀའ་དྲིན་ཆེ། །
gyagar penchen bö la kadrin ché
Indian mahāpaṇḍita, so kind to the land of Tibet;
པདྨ་ལས་འཁྲུངས་སྐུ་ལ་འདས་གྲོངས་མེད། །
pema lé trung ku la dé drong mé
Born from a lotus, your enlightened form beyond death;
ད་ལྟ་ལྷོ་ནུབ་སྲིན་པོའི་ཁ་གནོན་མཛད། །
danta lhonub sinpö kha nön dzé
Now you tame the rākṣasa demons in the south-west—
ཨོ་རྒྱན་རིན་པོ་ཆེ་ལ་གསོལ་བ་འདེབས། །
orgyen rinpoche la solwa dep
Precious master of Oḍḍiyāna, to you I pray!1
ཞེས་པ་འདི་ནི་རྒྱལ་སྲས་སྨན་ལུང་པས་མཛད་པར་གྲགས་སོ།།
This is said to have been composed by Gyalse Menlungpa.
| Translated by Adam Pearcey, 2019.
↑ The final three syllables of the prayer are often adapted from 'solwa dep' (I pray) to 'chöpa bul' (I present this offering) turning the text into an offering liturgy or tea-offering prayer.