Brief Sang Offering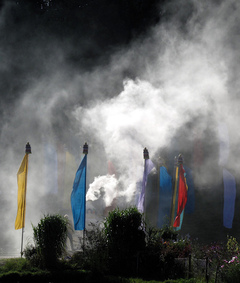 Further information:
༄༅། །བསང་མཆོད་བསྡུས་པ་བཞུགས།
Brief Sang Offering
by Mipham Rinpoche
ཧོ། བསང་མཆོད་ཀུན་བཟང་མཆོད་པའི་སྤྲིན་ཆེན་པོས། །
ho, sang chö kunzang chöpé trin chenpö
Ho! With this smoke offering, in great clouds like those of Samantabhadra,
བླ་མ་ཡི་དམ་སངས་རྒྱས་བྱང་སེམས་བསང་། །
lama yidam sangye changsem sang
We sanctify the guru, yidam deity, buddhas and bodhisattvas,
དཔའ་བོ་མཁའ་འགྲོ་ཆོས་སྐྱོང་ནོར་ལྷ་བསང་། །
pawo khandro chökyong norlha sang
We sanctify the vīras, ḍākinīs, dharma protectors and wealth deities,
དགྲ་བླ་ཝེར་མ་གནས་གཞི་གཏེར་བདག་བསང་། །
drala werma né zhi terdak sang
We sanctify the warrior spirits, wermas, regional deities and treasure-keepers,
འགོ་བའི་ལྷ་མགོན་གཉན་པོ་ཐམས་ཅད་བསང་། །
gowé lha gön nyenpo tamché sang
We sanctify all the personal gods and powerful guardians,1
ཚིག་རྐང་འདི་ལྷ་གང་འདོད་ཁ་བསྒྱུར་ཀྱང་ཆོག
ཕྱི་སྣོད་ནང་བཅུད་དག་པ་ཆེན་པོར་བསང་། །
chi nö nangchü dakpa chenpor sang
We sanctify the outer environment and its inhabitants into vast purity.
འདོད་ཡོན་མི་ཟད་ནམ་མཁའ་མཛོད་ཀྱིས་མཆོད། །
döyön mizé namkha dzö kyi chö
And we offer a sky-treasury of inexhaustible sensory delights.
གེགས་ཞི་བསམ་དོན་ལྷུན་གྲུབ་བཀྲ་ཤིས་ཤོག །
gek zhi samdön lhündrub tashi shok
Let everything be auspicious so that hindrances are pacified and all our wishes spontaneously fulfilled!
ཨོཾ་ཨཱཿ་ཧཱུྃ་ཞེས་བཟླ།
om ah hung
Recite "Oṃ āḥ hūṃ!"
ཤིང་སྦྲུལ་ཟླ་ ༧ ཚེས་ ༤ ལ་ཁྲ་འགུའི་རི་ཁྲོད་དུ་མི་ཕམ་པས་བཀོད་པ་དགེའོ།། །།
The one called Mipham composed this in Thrangu hermitage on the fourth day of the seventh month of the Wood Snake year (1905). May virtue abound!
| Translated by Adam Pearcey, 2019.
Version: 1.2-20230208
↑ A note says that this line may be adapted to any deity of your choice.