General Offering to the Male Protectors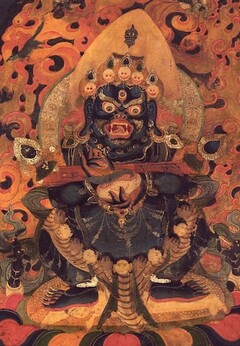 Further information:
༄༅། །མགོན་པོ་སྤྱི་ཡི་གསོལ་བསྡུས།
General Offering to the Male Protectors1
by Mipham Rinpoche
ཧཱུྂ། ལྷ་ཆེན་དཔལ་འབར་ལེགས་ལྡན་ཚོགས་ཀྱི་བདག །
hung, lhachen palbar lekden tsok kyi dak
Hūṃ. Lhachen Palbar, Gönpo Lekden, Gaṇapati,
གུར་ཞལ་བེར་ཆེན་ཕྱག་བཞི་ཕྱག་དྲུག་སོགས། །
gur zhal ber chen chak zhi chak druk sok
Pañjaranātha, Four-Faced Mahākāla, Bernakchen, and Mahākālas with Four and Six Hands—
ཕོ་རྒྱུད་མགོན་པོའི་ལྷ་ཚོགས་ཐམས་ཅད་ལ། །
po gyü gönpö lhatsok tamché la
All you hosts of protector deities of the male class,
གསོལ་ལོ་མཆོད་དོ་དགྲ་བགེགས་རྡུལ་དུ་རློག །
sol lo chö do dragek dul du lok
I supplicate you and make offerings to you: grind enemies and obstructors to dust!
མགོན་པོ་སྤྱི་ཡི་གསོལ་བསྡུས་མི་ཕམ་པས་སོ།།
This concise general offering to the male protectors was written by Mipham.
| Translated by Sean Price, 2023.
Source: 'Ju mi pham 'jam dbyangs rnam rgyal rgya mtsho. "mgon po spyi yi gsol bsdus." In gsung 'bum mi pham rgya mtsho. Chengdu: [Gangs can rig gzhung dpe rnying myur skyobs lhan tshogs], 2007. Vol. 28: 199
Version: 1.0-20230426
↑ The original is untitled; this title has been added by the translator.