Concise Tsok Feast
English | Français | 中文 | བོད་ཡིག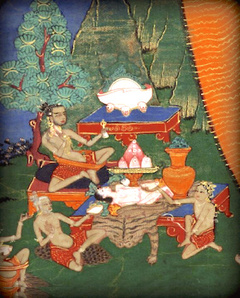 Further information:
༄༅། །ཚོགས་བསྡུས་ནི།
The Concise Feast Offering
by Mipham Rinpoche
ཚོགས་རྫས་རྣམས། ཨོཾ་ཨཱཿཧཱུྃ་ཧོས། བྱིན་གྱིས་རླབས།
om ah hung ho
oṃ āḥ hūṃ hoḥ
With this, bless the substances for the feast offering.
རྩ་གསུམ་ལྷ་ཚོགས་ཚོགས་ལ་སྤྱན་འདྲེན་གཤེགས། །
tsa sum lha tsok tsok la chen dren shek
Gurus, devas, ḍākinīs all: come now to this gaṇacakra feast.
ཕྱི་ནང་གསང་བའི་བདེ་ཆེན་ཚོགས་མཆོད་འབུལ། །
chi nang sangwé dechen tsok chö bul
Outer, inner and secret great bliss are the gaṇacakra offerings I make.
དམ་ཚིག་ཉམས་ཆག་ཐམས་ཅད་མཐོལ་ལོ་བཤགས། །
damtsik nyam chak tamché tol lo shak
All impairments and breakages of samaya, I confess.
གཉིས་འཛིན་དགྲ་བགེགས་ཆོས་ཀྱི་དབྱིངས་སུ་སྒྲོལ། །
nyi dzin dra gek chö kyi ying su drol
Duality, enemies and obstructors: liberate them into the dharmadhātu.
མཉམ་ཉིད་བདེ་བ་ཆེན་པོའི་ཐུགས་དམ་བསྐངས། །
nyam nyi dewachenpö tuk dam kang
May your wisdom mind, the great bliss of equality, be delighted;
མཆོག་དང་ཐུན་མོང་དངོས་གྲུབ་སྩལ་དུ་གསོལ། །
chok dang tünmong ngödrup tsal du sol
Please grant me attainments, ordinary and supreme.
ཞེས་པའང་ཚོགས་གྲངས་བསགས་པ་སོགས་ལ་མཁོ་བའི་ཚོགས་བསྡུས་འཇམ་དཔལ་རྡོ་རྗེས་སོ།།
This concise feast offering was composed by Jampal Dorjé as an addendum for the accumulation of the feast offering.
| Rigpa Translations, 2015.
Version: 1.0-20220927