Four Activities Aspiration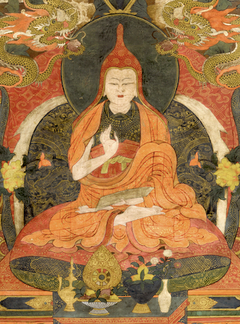 Further information:
༄༅། །ལས་བཞིའི་སྨོན་ལམ་བཞུགས། །
Aspiration for the Four Activities
by Mipham Rinpoche
མི་མཐུན་བར་ཆད་གེགས་ཀུན་ཡོངས་སུ་ཞི། །
mitün barché gek kün yongsu zhi
May all disharmony, obstacles and hindrances be thoroughly pacified;
འདོད་དགུ་ཕུན་ཚོགས་དཔལ་འབྱོར་འཕེལ་ཞིང་རྒྱས། །
dögu püntsok paljor pel zhing gyé
May our wealth and prosperity and supplies of all that we desire expand and multiply;
གང་བསམ་ཡིད་བཞིན་ལྷུན་གྲུབ་དབང་གིས་ཕྱུག །
gang sam yizhin lhündrub wang gi chuk
May we gain the power of spontaneously accomplishing whatever we wish;
དགྲ་བགེགས་ཚར་གཅོད་ཕྱོགས་ལས་རྣམ་རྒྱལ་ཤོག །
dragek tsarchö chok lé namgyal shok
And may we overcome foes and obstructers and reign victorious over all!
ལྕགས་ཡོས་ཟླ་༡ཚེས་༦ལའོ།། །།
Composed on the sixth day of the first month of the Iron Rabbit year (1891).
| Translated by Abraham Ta-Quan, 2021.
Source: mi pham rgya mtsho. "las bzhi'i smon lam/" in gsung 'bum/_mi pham rgya mtsho. W2DB16631. 32 vols. Khreng tu'u: [gangs can rig gzhung dpe rnying myur skyobs lhan tshogs], 2007. Vol. 32: 728.
Version: 1.0-20210913