Happiness and Suffering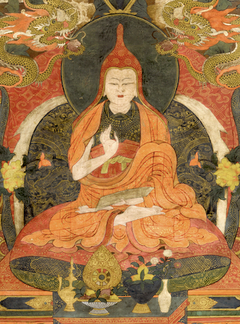 Further information:
Happiness and Suffering
by Mipham Rinpoche
Happiness and suffering are equal by their very nature;
Dharma and non-Dharma are empty of essential identity.
As long as the movement of thoughts is not activated,
Everything is just like space, beyond benefit and harm.
While remembering Tulku Rinpoche, this verse arose in my mind on the twenty-third day of the first month of the Water Dragon year.[1]
| Translated by Abraham Ta-Quan, 2021. Revised and edited for Lotsawa House, 2023.
Bibliography
Tibetan Edition
mi pham rgya mtsho. "bde dang sdug bsngal sogs/" in gsung 'bum/_mi pham rgya mtsho. 32 vols. Chengdu: [gangs can rig gzhung dpe rnying myur skyobs lhan tshogs], 2007. (BDRC W2DB16631). Vol. 32: 506.
Version: 1.0-20230313
---
Reading drin bzhin as dran bzhin. "Tulku Rinpoche" here must refer to Jamyang Khyentse Wangpo who passed into parinirvāṇa on the twenty-first day of the first month of the Water Dragon year (1892), two days before Mipham composed this verse.  ↩