Prayer to Gesar
English | Deutsch | Español | Français | Italiano | Nederlands | བོད་ཡིག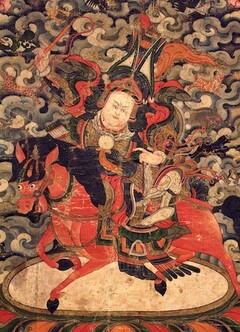 Further information:
༄༅། །གེ་སར་གསོལ་འདེབས་བཞུགས།
Prayer to Gesar
by Mipham Rinpoche
རིགས་གསུམ་ཀུན་འདུས་པདྨ་ཐོད་ཕྲེང་གི །
rik sum kündü pema tötreng gi
Embodiment of the three families,1
ཐུགས་རྗེའི་འོད་ཟེར་འཛམ་གླིང་དཔལ་དུ་ཤར། །
tukjé özer dzamling pal du shar
Through the compassionate light rays of Pema Tötreng, you arose as the splendour of the world—
སྐྱེས་མཆོག་སེང་ཆེན་ནོར་བུ་དགྲ་འདུལ་ལ། །
kyechok sengchen norbu dradul la
Supreme being, Great Lion, Norbu Dradül,2 to you we pray!
གསོལ་བ་འདེབས་སོ་མཆོག་ཐུན་དངོས་གྲུབ་སྩོལ། །
solwa deb so choktün ngödrub tsol
Grant us supreme and ordinary siddhis!
ཨོཾ་གུ་རུ་མ་ཎི་རཱ་ཛ་སིདྡྷི་ཧཱུྃ༔
om guru mani radza siddhi hung
oṃ guru manirāja siddhi hūṃ
མེ་སྤྲེལ་ཟླ་༡༡ཚེས་༣མི་ཕམ་པས་སོ། །
Written by Mipham Rinpoche on the third day of the eleventh month of the Fire Monkey year (1896).
| Translated by Adam Pearcey, 2012.
Version: 1.1-20211018
↑ Gesar is often said to be the embodiment of the lords of the three families, i.e., Mañjuśrī, Avalokiteśvara and Vajrapāṇi.
↑ 'The Great Lion, Jewel who Subdues Foes'—Sengchen Norbu Dradül Tsal—is one of Gesar's most popular names.