Pacifying the Turmoil of the Mamos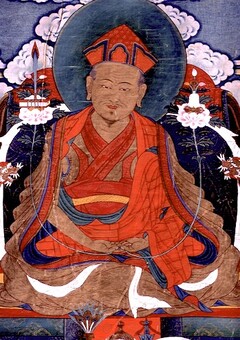 Further information:
༄༅། །འཁྲུགས་སྐོང་བསྡུས་པ་ནི།
Pacifying the Turmoil of the Mamos: A Concise Liturgy
by Shechen Gyaltsab Gyurme Pema Namgyal
བྷྱོཿ སྣང་སྲིད་མ་མོ་མཁའ་འགྲོའི་ཚོགས་རྣམས་ལ། །
jo, nangsi mamo khandrö tsok nam la
Jo. Mamos and Ḍākinīs of all that appears and exists,
བདེ་སྟོང་ཟག་མེད་མཆོད་གཏོར་འདི་འབུལ་བས། །
detong zakmé chötor di bulwé
I offer you this torma of inexhaustible bliss and emptiness –
ཕྱི་ནང་མ་མོ་འཁྲུགས་པའི་ཉེས་ཀུན་ཞི། །
chinang mamo trukpé nyé kün zhi
May all the troubles that infuriate the inner and outer Mamos be pacified
ལྷན་སྐྱེས་བདེ་བ་ཆེན་པོའི་དངོས་གྲུབ་སྩོལ། །
lhenkyé dewa chenpö ngödrub tsol
And the accomplishment of great spontaneous bliss bestowed!
སརྦ་ཌཱ་ཀ་ཌཱ་ཀི་ནི་ས་པ་རི་ཝཱ་ར་མ་ཧཱ་བ་ལིཾ་ཏ་ཁཱ་ཧི།
sarwa daka dakini sapariwara maha balingta khahi
sarva ḍāka ḍākinī saparivāra mahā baliṃ te khāhi
ཨོཾ་བཛྲ་ས་ཏྟྭ་ཨཱཿ
om benza sattva ah
oṃ vajra sattva āḥ
ཞེས་པའང་ཟབ་ལུང་པདྨ་ལྷ་རྩེར་༼གཙང་གི་ཤང་ཟབ་བུ་ལུང་༽དགོས་གལ་བྱུང་ནས་ལྕགས་བྱ་ཟླ་ཚེས་ཉེར་བརྒྱུད་ལ་སྔགས་བཙུན་པདྨ་དགྱེས་པས་༼ཞེ་ཆེན་རྒྱལ་ཚབ་༽གང་ཤར་བཅོས་མེད་དུ་བྲིས་པ་དགེ།།
Seeing there was a need for such a liturgy, the mantrika who delights Padmasambhava, [Shechen Gyaltsab, Gyurme Pema Namgyal] composed this at the delightful Pema Lhatse in Shang Zabbu Lung, Tsang Province, on the twenty-eighth day of the month during the Iron Bird year. May virtue prevail.
© Sean Price, Shechen Translations, 2020. Reproduced with permission.