Pacifying the Turmoil of the Mamos
English | Deutsch | Français | 中文 | བོད་ཡིག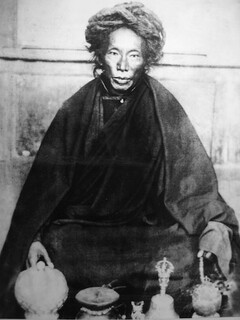 Further information:
༄༅། །མ་མོ་འཁྲུགས་སྐོང་བསྡུས་པ་ནི།
Brief Prayer for Pacifying the Turmoil of the Mamos
by Tertön Sogyal Lerab Lingpa
ཡེ་ཤེས་དབྱིངས་དང་འཇིགས་རྟེན་གྱི། །
yeshe ying dang jik ten gyi
All causes of turmoil among the mamos of appearance and existence,
སྣང་སྲིད་མ་མོ་འཁྲུགས་པའི་རྒྱུ། །
nangsi mamo trukpé gyu
Both mamos of the basic space of wisdom and those of this world—
ཉམས་ཆགས་འགལ་འཁྲུལ་སྐོང་ཞིང་བཤགས། །
nyamchak galtrul kong zhing shak
All our impairments and breakages, errors and confusions, we confess.
གསོལ་ལོ་མཆོད་དོ་དགྱེས་པར་མཛོད། །
sol lo chö do gyepar dzö
We supplicate you. We make this offering to you. Let it satisfy and delight you.
ལས་རབ་གླིང་པས་སོ།
By Lerab Lingpa.