Dilgo Khyentse Yangsi Rinpoche Long-Life Prayer
English | Deutsch | Español | Français | Italiano | Nederlands | བོད་ཡིག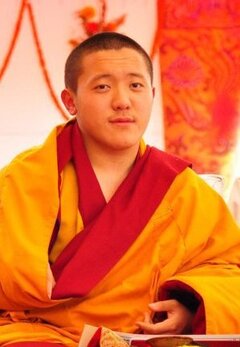 Further information:
༄༅། །དིལ་མགོ་མཁྱེན་བརྩེའི་ཡང་སྲིད་ཨུ་རྒྱན་བསྟན་འཛིན་འཇིགས་མེད་ལྷུན་གྲུབ་ཀྱི་ཞབས་བརྟན་གསོལ་འདེབས།
Prayer for the Long Life of Dilgo Khyentsé II of Shechen, Urgyen Tenzin Jigme Lhundrup
by Trulshik Rinpoche
ཨོཾ་སྭསྟི། །རབ་འབྱམས་སྲས་བཅས་རྒྱལ་བའི་ཐུགས་རྗེ་དང་། །
om svasti, rabjam sé ché gyalwé tukjé dang
Oṃ svasti! Through the compassion of the infinite buddhas and bodhisattvas,
རྨད་བྱུང་རྩ་བ་གསུམ་གྱི་བྱིན་རླབས་ཀྱིས། །
mejung tsawa sum gyi jinlab kyi
And the blessing of wondrous gurus, devas, and ḍākinīs,
རྗེ་བཙུན་བླ་མ་མཁྱེན་བརྩེའི་གཏེར་ཆེན་པོའི། །
jetsün lama khyentsé ter chenpö
The beloved master Khyentsé, treasure of knowledge and love,
བསམ་བཞིན་སྤྲུལ་པའི་ཟློས་གར་མཚུངས་ཟླ་བྲལ། །
samzhin trulpé dögar tsungda dral
Has manifested his matchless compassion, just as all have wished:
ཨོ་རྒྱན་རྗེ་དང་རིས་བྲལ་མདོ་སྔགས་ཀྱི། །
orgyen jé dang ridral do ngak kyi
Fearless Holder of the teachings of the Lord of Orgyen
བསྟན་འཛིན་འཇིགས་མེད་ཕྱོགས་ལས་རྣམ་རྒྱལ་བའི། །
tendzin jikmé chok lé namgyalwé
And of the non-partisan tradition of sūtras and tantras,
ཞབས་པད་མི་ཤིགས་རྡོ་རྗེའི་ཁམས་སུ་བརྟན། །
zhabpé mishik dorjé kham su ten
All-victorious one, let your life be forever firm and indestructible;
ཕན་བདེའི་བཞེད་དོན་མ་འབད་ལྷུན་གྲུབ་ཤོག །
pendé zhedön mabé lhündrub shok
And accomplish, spontaneously and without effort, your vision—of present happiness and ultimate bliss!
For the sake of auspiciousness, our guide throughout samsaric existence and the peace of nirvana, our refuge and protector, the supreme lord of Victorious Ones, His Holiness the Dalai Lama, kindly bestowed a name upon the precious reincarnation of the lord of refuges, the great Vajradhara Dilgo Khyentsé, at the long life cave of Māratika, at the same time as he was offered a set of robes. There, on the excellent eighth day of the waxing phase of the auspicious eleventh month of the Wood Pig year—Friday, 29 December 1995—the bewildered bhikṣu Shadeu Trulshik, Vāgindra Dharmamati, wrote and offered this, with a single-minded aspiration. Jayantu!