Prayer to Ārya Tārā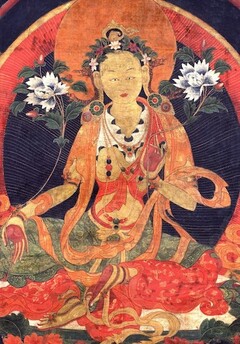 Further information:
༄༅། །སྒྲོལ་མའི་གསོལ་འདེབས། །
Prayer to Ārya Tārā
by Dodrupchen Jigme Tenpai Nyima
རྒྱལ་བ་ཀུན་གྱི་ཐུགས་རྗེ་ཕྲིན་ལས་རྣམས། །
gyalwa kün gyi tukjé trinlé nam
Embodiment of the compassion and activity of all Victorious Ones,
གཅིག་བསྡུས་རྗེ་བཙུན་མྱུར་མ་དཔའ་མོའི་ཞབས། །
chikdü jetsün nyurma pamö zhab
Noble Lady, swift and heroic,
གསོལ་བ་འདེབས་སོ་འདི་ཕྱི་བར་དོ་ཀུན། །
solwa deb so di chi bardo kün
To you I pray: in this life, the next and the intermediate state,
འཇིགས་དང་སྡུག་བསྔལ་ཚོགས་ལས་བསྐྱབ་ཏུ་གསོལ། །
jik dang dukngal tsok lé kyab tu sol
May you protect us from the hosts of fears and sufferings!
དགེ་ཞིང་བཀྲ་ཤིས།།
May there be virtue and auspiciousness.
| Translated by Abraham Ta-Quan, 2020.
Version: 1.0-20230420