Prayer for the Tradition of Guru Padmasambhava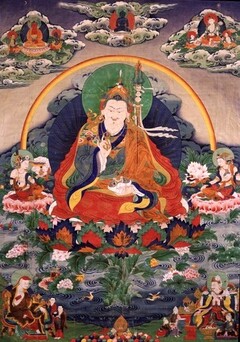 Further information:
༄༅། །མཁན་སློབ་ཆོས་གསུམ་རིང་ལུགས་རྒྱས་པའི་སྨོན་ལམ།
Prayer for the Tradition of Guru Padmasambhava1
by Dudjom Rinpoche
མཁན་སློབ་ཆོས་གསུ༷མ་རིང་ལུགས་ཆེ། །
khen lob chö sum ringluk ché
May the great tradition of the three—abbot, master and dharma king—2
འཛམ་གླིང་ས་གསུ༷མ་ཁྱབ་པར་འཕེལ། །
dzamling sa sum khyabpar pel
Spread throughout the three regions of this world.3
འགྲོ་རྒྱུད་མཆོག་གསུ༷མ་སྣང་བ་དང༌། །
dro gyü chok sum nangwa dang
And may the Three Jewels be present in the minds of all,
མི་འབྲལ་དུས་གསུ༷མ་དགེ་ལེགས་ཤོག །
mindral dü sum gelek shok
Inseparably, throughout the three times, bringing virtue and excellence!
ཅེས་པའང་འཇིགས་བྲལ་ཡེ་ཤེས་རྡོ་རྗེས་སོ།།
By Jigdral Yeshe Dorje.
| Translated by Adam Pearcey, 2022.
Source: 'jigs bral ye shes rdo rje. "smon lam phyogs bsdebs nang gses le tshan so brgyad/" in gsung 'bum/_'jigs bral ye shes rdo rje. BDRC W20869. 25 vols. Kalimpong: Dupjung Lama, 1979–1985. Vol. 25: 476
Version: 1.1-20230306
↑ The original is untitled; this title has been added by the translator
↑ Khenpo Śāntarakṣita, Ācārya Padmasambhava and King Tri Songdetsen.
↑ The three regions or planes are above, on and below the earth.