Prayer to the Guru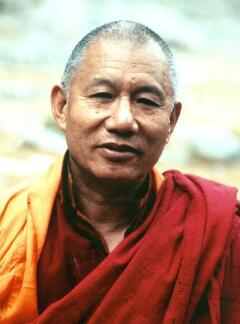 Further information:
༄༅། །བླ་མའི་གསོལ་འདེབས།
Prayer to the Guru1
by the Fourth Dodrupchen, Tupten Trinlé Pal Zangpo
སེམས་ཀྱི་ངོ་བོ་བློ་བྲལ་སྐད་ཅིག་མ།།
sem kyi ngowo lo drel ké chik ma
This moment of the essence of mind, beyond concepts,
རང་རིག་དོན་གྱི་ངོ་བོ་བླ་མ་ལ།།
rang rik dön gyi ngowo la ma la
Is the ultimate guru of natural awareness—
འདུ་འབྲལ་མེད་པའི་ངང་ནས་གསོལ་འདེབས་ན།།
du drel mé pé ngang né söl dep na
Knowing that we are beyond separation or union, I pray:
འཁྲུལ་སྣང་གཞི་ལ་དག་པར་བྱིན་གྱིས་རློབས།།
trül nang zhi la dak par jin gyi lop
Bless me so that deluded perception may be purified in the ground!
རྡོ་གྲུབ་བཞི་པས་སོ།།
By the Fourth Dodrupchen.
| Translated by Han Kop, 2022.
Version: 1.0-20220201
↑ The original is untitled; this title has been added by the translator.