Emptying the Three Realms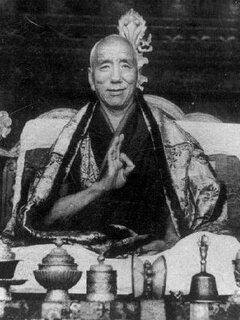 Further Information:
Emptying the Three Realms of Existence
by Jamyang Khyentse Chökyi Lodrö
Ahoye!
The natural state of primordial purity is unimaginable and inexpressible,
Utterly beyond the extremes of existence and non-existence.
It is not a blank vacuity but by nature lucid,
Bright with the natural radiance of clear light.
Through the practice of the four lamps,
The intensely radiant visions of spontaneous perfection,
May ordinary conditioned appearances dissolve into inner space,
And in a state of unobscured primordial wisdom
Let us seize the stronghold of immovable realization
And empty the three realms of existence from their very depths!
| Translated by Adam Pearcey with the generous support of the Khyentse Foundation and Tertön Sogyal Trust, 2021.
Bibliography
Tibetan Edition
'Jam dbyangs chos kyi blo gros. "Zhal gdams srid gsum dong sprugs ma/" in 'Jam dbyangs chos kyi blo gros kyi gsung 'bum. 12 vols. Bir: Khyentse Labrang, 2012. W1KG12986. Vol. 8: 246
Version: 1.0-20210608