Guru Yoga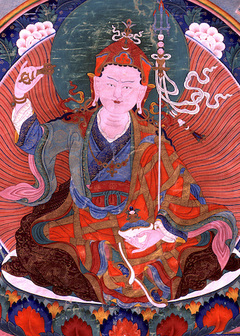 Further information:
༄༅། །བླ་མའི་རྣལ་འབྱོར།
Guru Yoga1
by Jamyang Khyentse Chökyi Lodrö
ཨ། རང་མདུན་ནམ་མཁར་འཇའ་འོད་འཁྲིགས་པའི་ཀློང་། །
a, rang dün namkhar ja ö trikpé long
Ah! In the sky before me, in an expanse of rainbow light,
སེང་ཁྲི་པད་དཀར་ཟླ་བ་རྒྱས་པའི་སྟེང་། །
sengtri pekar dawa gyepé teng
Upon a lion throne, white lotus and full-moon seat,
རྩ་བའི་བླ་མ་ཨོ་རྒྱན་རིན་པོ་ཆེ། །
tsawé lama orgyen rinpoche
Is my own root guru in the form of Orgyen Rinpoche,
སྣང་སྲིད་ཟིལ་གནོན་གསལ་བའི་ཐུགས་ཀ་རུ། །
nangsi zilnön salwé tukka ru
'Prevailing Over All That Appears and Exists.'
འཇམ་དབྱངས་བླ་མ་དམར་སེར་རལ་གླེགས་བསྣམས། །
jamyang lama marser ral lek nam
In his heart is the guru Mañjughoṣa, orange, holding a sword and book,
ཐུགས་ཀར་དྷཱིཿཡིག་འོད་ཟེར་འབར་བ་ལས། །
tukkar dhih yik özer barwa lé
And with a syllable dhīḥ at his heart that blazes with light,
འོད་ཟེར་ཁ་དོག་སྣ་ལྔ་འཕྲོས་པ་ཡིས། །
özer khadok na nga tröpa yi
From which five-coloured rays of light shoot out
རྨོངས་པའི་མུན་པ་ཐམས་ཅད་སེལ་བར་གྱུར། །
mongpé münpa tamché selwar gyur
To dispel all the darkness of confusion.
ཨོཾ་ཨཱཿབཛྲ་གུ་རུ་པདྨ་པྲཛྙཱ་ཛྙཱ་ན་སརྦ་སིདྡྷི་ཕ་ལ་ཧཱུྃ།
om ah benza guru pema prajnya jnyana sarwa siddhi pala hung
oṃ āḥ vajra guru padma prajñā jñāna sarva siddhi phala hūṃ
ཞེས་བཟླ།
Recite this mantra.
མཐར་ནི་བླ་མ་འོད་ཞུ་རང་ལ་ཐིམ་ཇི་ལྟ་ཇི་སྙེད་མཁྱེན་གཉིས་རྒྱས་པར་བསམ།
At the end consider that the guru melts into light and dissolves into you, causing the twofold knowledge—of all that exists and of its nature—to increase.
དགེ་བསྔོ་བྱའོ། །
Perform the dedication of merit
ཅེས་པའང་སྤྲེལ་ལོ་སྤྲེལ་ཟླའི་ཚེས་བཅུ་ལ་ལྷོ་བྲག་མཁར་ཆུ་ལྕགས་ཕུར་ཅན་དུ་བྲིས་པའོ།། །།
This was written in Chakpurchen, Lhodrak Kharchu, on the tenth day of the Monkey month in the Monkey year.
| Translated by Adam Pearcey with the generous support of the Khyentse Foundation and Tertön Sogyal Trust, 2023.
Source: 'Jam dbyangs chos kyi blo gros. 'Jam dbyangs chos kyi blo gros kyi gsung 'bum. 12 vols. Bir, H.P.: Khyentse Labrang, 2012. (BDRC W1KG12986). Vol. 5: 580–581.
Version: 1.1-20230124
↑ The original is untitled; this title has been added by the translator.