Pacifying Gyalpo and Harmful Influences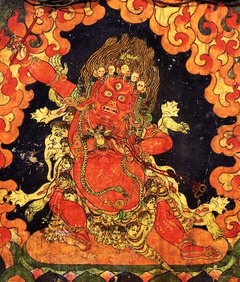 Further information:
༄༅། །རྒྱལ་གདོན་ཞི་བའི་སྒོམ་བཟླས་བཞུགས།
Meditation and Recitation to Pacify Gyalpo Spirits and Harmful Influences
by Jigme Lingpa
སྐྱབས་འགྲོ་སེམས་བསྐྱེད་ལན་གསུམ། །
Recite verses of taking refuge and generating bodhicitta, three times each.
རང་གི་སྙིང་ཁར་རྟ་མགྲིན་དམར། །
rang gi nyingkhar tamdrin mar
In my heart is the red Hayagrīva.
ཕྱག་གཡས་ཐོད་དབྱུག་གཡོན་སྡིགས་མཛུབ། །
chak yé tö yuk yön dik dzub
In his right hand he holds a skull-mace and his left is in the threatening mudrā.
ཞལ་རྔམ་དབུ་གཙུག་རྟ་མགོ་མཚེར། །
zhal ngam u tsuk ta go tser
Above his ferocious face is a neighing horse head.
པད་ཉིའི་གདན་ལ་དོར་སྟབས་བཞུགས། །
pé nyi den la dortab zhuk
He stands on a lotus and sun-disk seat, in the champion's posture.
སྤྱི་བོར་ཀརྨ་ཐོད་ཕྲེང་རྩལ། །
chiwor karma tötreng tsal
Above his head is Tötreng Tsal of the karma family,
ཁྲོ་འཛུམ་རྡོ་རྗེ་ཕུར་བུ་བསྣམས། །
tro dzum dorjé purbu nam
Smiling wrathfully and holding a vajra and kīla.
བླ་མ་ཡི་དམ་གཉིས་མེད་ལ། །
lama yidam nyimé la
Recognizing the indivisibility of the guru and yidam deity,
མོས་གུས་དྲག་པོས་གསོལ་བ་འདེབས། །
mögü drakpö solwa deb
I pray with fervent devotion:
ནད་གདོན་ཞི་བར་བྱིན་གྱིས་རློབས། །
nedön zhiwar jingyi lob
Bless me, so that all diseases and harmful influences may be pacified!
ཞེས་བརྗོད་ལ།
Pray in this way, and then recite:
ཨོཾ་ཨཱཿཧཱུྃ། མ་ཧཱ་གུ་རུ་ཧྱ་གྷྲི་ཝ་ཧཱུྃ་ཕཊ྄༔
om ah hung maha guru hayagriva hung pé
oṃ āḥ hūṃ mahā-guru hayagrīva hūṃ phaṭ
ཅེས་མོས་གུས་རྩེ་གཅིག་པས་བརྒྱ་སྟོང་ཁྲི་འབུམ་ཅི་ནུས་བཟླའོ།།
Recite the mantra with one-pointed devotion as much as you can; a hundred, a thousand, ten thousand or a hundred thousand times.
| Translated by Han Kop for the Longchen Nyingtik Project, 2023.
Source: 'Jigs med gling pa. "rgyal gdon zhi ba'i sgom bzlas", in klong chen snying thig rtsa pod. New Delhi: Shechen Publications, 1994. Vol. 3: 635.
Version: 1.0-20231002