Prayer to Gyaltsen Tsemö Pung Gyen
English | Español | Français | བོད་ཡིག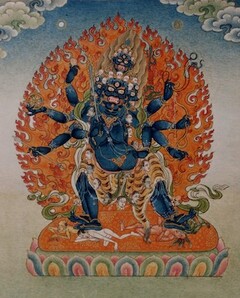 Further information:
༄༅། །རྒྱལ་མཚན་རྩེ་མོའི་དཔུང་རྒྱན་གྱི་གསོལ་འདེབས་བཞུགས།
Prayer to Gyaltsen Tsemö Pung Gyen1
by Karma Chakme2
ཨོཾ། གུ་རུ་ཡི་དམ་རྒྱལ་མཚན་རྩེ་མོའི་ཏོག །
om, guru yidam gyaltsen tsemö tok
Oṃ! We take refuge in the gurus, the yidams, and in you, Gyaltsen Tsemö Pung Gyen,
དཔུང་རྒྱན་ལྷ་ཚོགས་ཁྱེད་ལ་སྐྱབས་སུ་མཆི། །
pung gyen lhatsok khyé la kyab su chi
Along with all your retinue!
བདག་ཅག་སྙིང་ནས་གསོལ་བ་བཏབ་པའི་མཐུས། །
dakchak nying né solwa tabpé tü
By the power of this fervent prayer of ours,
རྒུད་པ་ཀུན་ལས་མྱུར་དུ་བསྐྱབ་ཏུ་གསོལ། །
güpa kün lé nyurdu kyab tu sol
Quickly protect us from all failure and misfortune!
ཨོཾ་ཧཱུྂ་སྭཱ་ཧཱ།
om hung soha
Oṃ hūṃ svāhā!
དཔུང་རྒྱན་ལྷ་ཚོགས་ཁྱེད་ཀྱི་རྫུ་འཕྲུལ་མཐུས། །
pung gyen lhatsok khyé kyi dzutrul tü
O Pung Gyen, and your retinue:
བདག་དང་རྒྱུ་སྦྱོར་ཡོན་བདག་འཁོར་བཅས་ལ། །
dak dang gyujor yöndak khor ché la
With the force of your magical display, for us, our benefactors, and all those around us
རྨི་ལམ་ངན་དང་བསམ་ངན་སྦྱོར་རྩུབ་ཟློག །
milam ngen dang sam ngen jor tsub dok
Avert all bad dreams, and those who have ill thoughts or do us harm!
བྱད་ཁ་ཕུར་ཁ་འཐབ་རྩོད་འཁྲུགས་ལོང་ཟློག །
jekha purkha tabtsö truklong dok
Avert spells and curses, dispute and conflict!
སྲོག་ལུས་དབང་ཐང་རླུང་རྟ་རྒུད་པ་ཟློག །
sok lü wangtang lungta güpa dok
Avert all weakening in our life force, body, wangtang and windhorse!
མི་ལ་ན་ཚ་ཕྱུགས་ལ་གོད་ཁ་ཟློག །
mi la natsa chuk la gökha dok
Avert all illness in men and women, all loss of our resources!
ཚེ་དང་བསོད་ནམས་དཔལ་དང་གྲགས་པ་སོགས། །
tsé dang sönam pal dang drakpa sok
Grant us long life, merit, glory and renown, and
ཉིན་མཚན་ཀུན་ཏུ་བདེ་ལེགས་མཛད་དུ་གསོལ། །
nyintsen küntu delek dzé du sol
Make peace and happiness reign, throughout both day and night!
ཨ་རཱ་གས་གསུངས་སོ། །
By Arāga (Karma Chakme).
| Rigpa Translations.
Source: gnas mdo karma chags med. "rgyal mtshan rtse mo'i dpung rgyan bsdus pa." In gsung 'bum karma chags med (gnas mdo dpe rnying nyams gso khang), 60 vols. [Nang chen rdzong]: gnas mdo gsang sngags chos 'phel gling gi dpe rnying nyams gso khang, 2010. Vol. 34: 199.
Version: 1.3-20230317
↑ Gyaltsen Tsemö Pung Gyen, whose name translates roughly as 'Ornament on the Top of the Victory Banner', is a female deity whose dhāraṇī is particularly treasured as a method for enhancing windhorse. The Buddha said that in a previous life he had heard her dhāraṇī, and from that moment on never again did he experience fear or defeat.
↑ Note that this same text has also been attributed to Jamgön Mipham Rinpoche and Jamyang Khyentse Wangpo.