Lungta Series
English (9) | Deutsch (4) | Español (5) | Français (6) | Português (1) | བོད་ཡིག (9)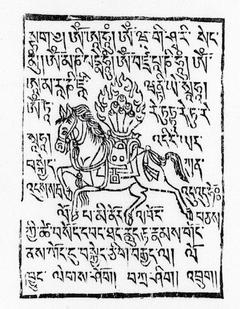 Further information:
Ho! The great flag of the windhorse, auspicious and sweet-sounding far and wide

Sends out a vast cloud of exquisite offerings, like those of Samantabhadra.

Through this offering, we pray, may the Three Roots—guru, deva and ḍākinī—protectors, dralas, and gods in action,

Make all our aspirations be spontaneously fulfilled!
Texts on the theme of Lungta (rlung rta/klung rta) or Windhorse, including chants to accompany the raising of prayer flags:
Prayers
Related Topics