Brief Summoning Prosperity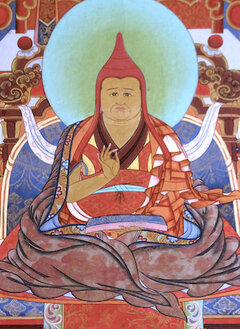 Further Information:
༄༅། །གཡང་འགུགས་བསྡུས་པ། །
A Brief Prayer for Summoning Prosperity
by Jamgön Mipham Rinpoche
ཧཱུྂ། མཆོག་གསུམ་རྩ་གསུམ་སྔགས་དང་ཕྱག་བརྒྱའི་མཐུས། །
hung, chok sum tsa sum ngak dang chak gyé tü
Hūṃ! By the power of mantras and mudrās of the Three Jewels and Three Roots,
བརྟན་གཡོ་སྲིད་ཞིའི་ཕྱྭ་གཡང་དགེ་མཚན་ཀུན། །
tenyo sizhi cha yang getsen kün
May all the good omens, abundance and prosperity of the animate and inanimate universe, both saṃsāra and nirvāṇa,
འདིར་ཁུག་འདིར་བསྡུས་འཕེལ་རྒྱས་མི་ནུབ་པར། །
dir khuk dir dü pelgyé mi nubpar
Be summoned and gathered here, and expand without ever declining,
བདེ་སྐྱིད་བཀྲ་ཤིས་ལེགས་ཚོགས་དཔལ་འབར་ཤོག །
dekyi tashi lektsok palbar shok
So that the splendour of happiness, well-being, auspiciousness and all that is good may blaze forth!
ཤིང་འབྲུག་ཟླ༡༠ཚེས་༦ལ་དྷཱིས་སོ།། ༎
This was composed by Dhīḥ on the sixth day of the tenth month of the Wood Dragon year (1904).
| Translated by Abraham Ta-Quan, 2021.
Source: mi pham rgya mtsho. "g.yang 'gugs bsdus pa/" in gsung 'bum/_mi pham rgya mtsho. BDRC W2DB16631. Vol. 25: 496. Khreng tu'u: [gangs can rig gzhung dpe rnying myur skyobs lhan tshogs], 2007.
Version 1.0-20210709