Short Torma Offering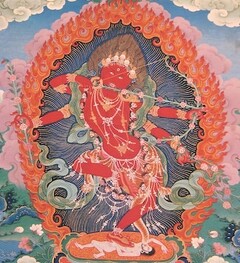 Further information:
༄༅། །རིག་བྱེད་མའི་གཏོར་བསྡུས།
Short Torma Offering to Kurukullā
by Mipham Rinpoche
རྃ་ཡྃ་ཁྃ།
ram yam kham
raṃ yaṃ khaṃ
ཨོཾ་ཨཱཿཧཱུྃ།
om ah hung
oṃ āḥ hūṃ
གཏོར་མ་ཟག་མེད་ཡེ་ཤེས་བདུད་རྩིའི་གཏེར། །
torma zakmé yeshe dütsi ter
I offer this torma, a treasure of uncontaminated wisdom-nectar,
འདོད་དགུ་ལྷུན་གྲུབ་འཛད་མེད་ནམ་མཁའ་མཛོད། །
dögu lhündrub dzemé namkha dzö
An inexhaustible repository that fills the whole of space and spontaneously fulfils the wishes of all,
རིག་བྱེད་དབང་མོ་འཁོར་དང་བཅས་ལ་འབུལ། །
rikjé wangmo khor dang ché la bul
To the majestic Kurukullā and her entourage:
དགྱེས་པར་བཞེས་ནས་མཆོག་ཐུན་དངོས་གྲུབ་སྩོལ། །
gyepar zhé né choktün ngödrub tsol
Please accept this offering with delight and bestow the common and supreme accomplishments!
ཨོཾ་པདྨ་ཌཱ་ཀི་ནཱི་ཀུ་རུ་ཀུལླེ་ས་པ་རི་ཝཱ་ར་མ་ཧཱ་བ་ལིངྟ་ཁ་ཁ་ཁཱ་ཧི་ཁཱ་ཧི་མ་མ་སརྦ་སིདྡྷི་ཧཱུྃ།
om pema dakini kurukullé sapariwara maha balingta kha kha khahi khahi mama sarwa siddhi hung
oṃ padma ḍākinī kurukulle saparivāra mahā baliṃta kha kha khāhi khāhi mama sarva siddhi hūṃ
ཞེས་པ་ཨ་ཚང་གིས་བསྐུལ་ངོར་མི་ཕམ་པས་སོ། །མངྒ་ལཾ།།
Written by Mipham in response to a request from Atsang. Maṅgalam.
| Translated by Sean Price, 2021.