Wrathful Guru Mantra Visualization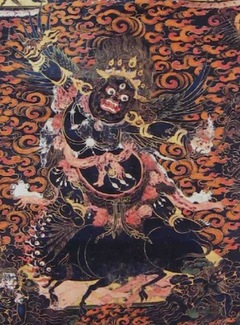 Further information:
༄༅། །སྔགས་བཟླ་དུས་ཀྱི་ཏིང་འཛིན་ནི།
Wrathful Guru Mantra Visualization
by Mipham Rinpoche
The meditation for the mantra repetition is as follows:
རང་ཉིད་སྐད་གཅིག་དྲན་རྫོགས་སུ། །
rangnyi ké chik dren dzok su
In an instant of perfect recollection,
གུ་རུ་དྲག་པོ་མཐིང་ནག་སྐུ། །
guru drakpo tingnak ku
I arise as the Wrathful Guru, blue-black in colour,
གཡས་པས་རྡོ་རྗེ་གཡོན་ཐོད་ཁྲག །
yepé dorjé yön tötrak
I brandish a vajra in my right hand and hold a skull-cup filled with blood in my left.
ཆིབས་སུ་ཕག་རྒོད་ཁམ་ནག་ཆིབས། །
chib su pak gö kham nak chib
I stand on the back of a dark brown wild boar,
ཞལ་ནས་དྲག་སྔགས་མེ་སྟག་འཕྲོ། །
zhal né drakngak metak tro
From whose mouth the fiery sparks of wrathful mantras blaze forth.
རང་སྤྲུལ་ཕག་རྒོད་དཔག་མེད་འཕྲོས། །
rang trul pak gö pakmé trö
I emanate inconceivable numbers of wild boar
ནད་གདོན་ཧུར་ཐུམ་ཟོས་པར་བསམ། །
nedön hurtum zöpar sam
Who devour all illness and spirit harm.
དྲག་སྔགས་མེ་འོད་མགར་གྱི་ནི། །
drakngak mé ö gar gyi ni
The blazing fire of their roaring wrathful mantras shoots like sparks,
ཚ་ཚ་ལྟར་འཕྲོས་ནད་གདོན་བསྲེག །
tsatsa tar trö nedön sek
Incinerating all illness and demons.
མ་ཡེངས་དམིགས་ལ་སྔགས་བཟླའོ། །
Maintain the visualization without distraction and repeat the mantra.
སྔགས་དེ་གང་ཞེ་ན།
The mantra is as follows:
ཨོཾ་བྷེ་ཧུ་ན་ཁེ༔ ཙ་ན་དུ་ཧེ་ཧུ༔ བྷི་ཤ་མ་ཧི་ར་ཧོྃ༔ ཏྲི་ན་དུ་ཁེ༔ བྷེ་ཤེ་ན་ཏ༔ བྷི་ན་ཡ་སྭཱ་ཧཱ༔
om bhehu nakhe | tsana duhehu | bhishama hira hong | trinadukhe | bheshena ta | bhinaya soha
ཞེས་ནད་རིམས་ཀུན་ཐུབ་སྔགས་རྒོད་ཟབ་མོ་ལས་བཏུས་སོ།།
Extracted from Profound Fierce Mantras to Subdue All Infectious Disease.
| Translated by Sean Price, 2020.