Daily Practice of Vajrasattva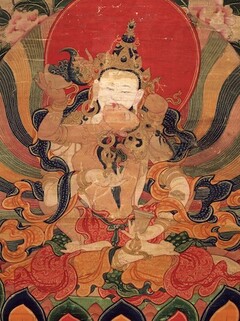 ༄༅། །རྡོར་སེམས་རྒྱུན་ཁྱེར་མདོར་བསྡུས་བཞུགས། །
Concise Daily Practice of Vajrasattva
arranged by Dilgo Khyentse Rinpoche
Refuge & Bodhicitta
ཐོག་མར་སྐྱབས་སེམས་ནི།
First, take refuge and generate bodhicitta as follows:
ན་མོ༔ རིགས་ཀུན་ཁྱབ་བདག་བླ་མ་རྗེ༔
namo, rik kün khyabdak lama jé
Namo! Precious Guru, the lord of all families,
དངོས་གྲུབ་འབྱུང་གནས་ཡི་དམ་ལྷ༔
ngödrub jungné yidam lha
Divine Yidam, the source of all siddhis,
བར་ཆད་ཀུན་སེལ་མཁའ་འགྲོ་མ༔
barché kün sel khandroma
Ḍākinī, the dispeller of all obstacles—
རྩ་བ་གསུམ་ལ་སྐྱབས་སུ་མཆི༔
tsawa sum la kyab su chi
In the Three Roots, I take refuge!
ལན་གསུམ།
Repeat this verse three times.
ཧོཿ མ་གྱུར་སེམས་ཅན་ཐམས་ཅད་ཀུན༔
ho, magyur semchen tamché kün
Ho! In order for all mother sentient beings
སངས་རྒྱས་གོ་འཕང་འཐོབ་བྱའི་ཕྱིར༔
sangye gopang tob jé chir
To obtain the state of a fully enlightened buddha,
ཉེས་སྤྱོད་ཀུན་སྡོམ་དགེ་ཚོགས་སྡུད༔
nyechö kün dom gé tsok dü
I promise to abandon all misdeeds, accumulate merit,
གཞན་ཕན་བྱང་སེམས་རྟག་ཏུ་བསྐྱེད༔
zhenpen changsem taktu kyé
And always cultivate bodhicitta for others' sake.
Main Part
ལན་གསུམ། གཉིས་པ་དངོས་གཞིའི་རྣལ་འབྱོར་ནི།
Repeat three times. Then, practise the yoga of the main part:
ཨཱ། རྡོ་རྗེ་སེམས་དཔའ་ནམ་མཁའ་ཆེ༔
a, dorjé sempa namkha ché
Ā! Vajrasattva, great space,
བཟུང་བས་མི་ཟིན་ཆུ་ཟླ་འདྲ༔
zungwé mi zin chuda dra
Unobtainable through grasping, like the moon in water.
ཀུན་ཏུ་བཟང་པོའི་རོལ་པ་ལས༔
kuntuzangpö rolpa lé
As the emanation of Samantabhadra,
ཐབས་ཤེས་ཟུང་འཇུག་རྩ་བའི་ལྷ༔
tabshé zungjuk tsawé lha
You are the main deity, the union of wisdom and method,
སེམས་དཔའ་དཀར་པོ་རྡོར་དྲིལ་བསྣམས༔
sempa karpo dordril nam
A heroic being, white in color, and holding vajra and bell,
རང་འོད་ཡུམ་འཁྱུད་བདེ་སྟོང་སྦྱོར༔
rang ö yum khyü detong jor
Embracing the consort of innate luminosity, the union of bliss and emptiness,
དར་དང་རིན་ཆེན་རྒྱན་གྱིས་བརྒྱན༔
dar dang rinchen gyen gyi gyen
And adorned with silk and jewel ornaments.
མ་བཅོས་ལྷུག་པའི་ངང་ཉིད་ལས༔
machö lhukpé ngang nyi lé
From the state of the unfabricated nature,
གཙོ་བོའི་ཐུགས་ཀར་ཞི་བ་དང་༔
tsowö tukkar zhiwa dang
The peaceful deities appear at the main deity's heart
སྤྱི་བོར་ཁྲག་འཐུང་ལྷ་ཚོགས་གསལ༔
chiwor traktung lhatsok sal
And wrathful deities appear vividly at his crown.
ཐུགས་ཀར་ཉི་ཟླའི་གའུ་དབུས༔
tukkar nyidé ga'u ü
At his heart, upon discs of sun and moon
ཧཱུྃ་ལ་སྔགས་ཀྱི་ཕྲེང་བས་བསྐོར༔
hung la ngak kyi trengwé kor
Is the syllable Hūṃ surrounded by a garland of mantra,
འོད་ཟེར་སྤྲོ་བསྡུས་དོན་གཉིས་བྱས༔
özer trodü dön nyi jé
From which light rays radiate, then return, performing two kinds of benefit
ཉམས་ཆགས་རྟོག་སྒྲིབ་དབྱིངས་སུ་སྦྱང་༔
nyamchak tok drib ying su jang
And pacifying transgressions and obscurations of awareness into space.
སྣོད་བཅུད་ཞི་ཁྲོ་རབ་འབྱམས་ཀྱི༔
nöchü zhitro rabjam kyi
The entire outer and inner world arises as deity, mantra and wisdom
ལྷ་སྔགས་ཡེ་ཤེས་རོལ་པར་ཤར༔
lha ngak yeshe rolpar shar
Of the countless peaceful and wrathful deities.
Mantra Recitation
ཨོཾ་བཛྲ་སཏྭ་ཨ༔
om benza sato a
oṃ vajrasatva āḥ
ཞེས་རྡོར་སེམས་དང་།
Recite the mantra of Vajrasattva. After that:
ཨོཾ་བོ་དྷི་ཙིཏྟ་མ་ཧཱ་སུ་ཁ་ཛྙཱ་ན་དྷཱ་ཏུ་ཨ༔
om bodhitsitta maha sukha jnana dhatu a
oṃ bodhicitta mahāsukha jñānadhātu āḥ
ཞེས་ཞི་བ་དང་།
The general mantra of peaceful deities, and then:
ཨོཾ་རུ་ལུ་རུ་ལུ་ཧཱུྃ་བྷྱོ་ཧཱུྃ༔
om rulu rulu hung jo hung
oṃ rulu rulu hūṃ bhyo hūm
ཁྲོ་བོའི་སྤྱི་སྔགས་བཅས་བཟླ། ཐུན་མཐར།
The general mantra of wrathful deities. To conclude:
ཧཱུྃ་ཧཱུྃ་ཧཱུྃ་གིས་འོད་གསལ་དུ་བསྡུ།
With 'Hūṃ! Hūṃ! Hūṃ!', everything dissolves into clear light.
ཕཊ་ཕཊ་ཕཊ་ཀྱིས་ཐུན་མཚམས་ཀྱི་ལྷར་ལྡང་ལ།
With 'Phaṭ! Phaṭ! Phaṭ!', you re-emerge as the deity between sessions.
Dedication
དགེ་བ་འདི་ཡིས་མྱུར་དུ་བདག །
gewa di yi nyurdu dak
Through this merit, may I swiftly accomplish
རྡོ་རྗེ་སེམས་དཔའ་འགྲུབ་གྱུར་ནས། །
dorjé sempa drub gyur né
The state of Vajrasattva,
འགྲོ་བ་གཅིག་ཀྱང་མ་ལུས་པ། །
drowa chik kyang malüpa
And may I establish every sentient being without exception
དེ་ཡི་ས་ལ་འགོད་པར་ཤོག །
dé yi sa la göpar shok
In that perfect state as well.
ཅེས་བསྔོ་སྨོན་གྱིས་རྒྱས་གདབ་པར་བྱའོ། །
Seal with the dedication and prayers of aspiration.
ཐུགས་སྒྲུབ་ཞལ་གདམས་སྙིང་བྱང་ལྟར་མངྒ་ལས་ཁོལ་དུ་ཕྱུངས་པའོ། །དགེའོ།། །།
Maṅgala adapted this from Thukdrub Zheldam Nyingjang (Heart Practice Manual of Oral Instructions). Virtue!
| Translated by Abraham Ta-Quan, 2019.
Version: 1.3-20230801