Heart Advice in Four Lines
English | Español | Português | བོད་ཡིག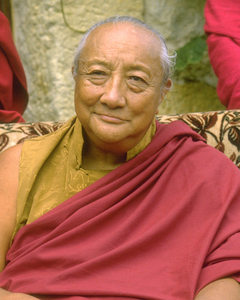 Further information:
༄༅། །ཞལ་གདམས་མདོར་བསྡུས་ནི།
Heart Advice in Four Lines
by Dilgo Khyentse Rinpoche
བླ་མ་མ་བརྗེད་རྟག་ཏུ་གསོལ་བ་ཐོབ། །
lama ma jé tak tu solwa tob
Do not forget the guru;
Pray to him1 at all times.
རང་སེམས་མ་ཡེངས་རང་ངོ་རང་གིས་ལྟོས། །
rang sem ma yeng rang ngo rang gi tö
Do not let your mind be distracted;
Look into its very essence.
འཆི་བ་མ་བརྗེད་ཆོས་ལ་བསྐུལ་མ་ཐོབ། །
chiwa ma je chö la kul ma thob
Do not forget death;
Let it spur you on to Dharma.
སེམས་ཅན་མ་བརྗེད་སྙིང་རྗེ་བསྔོ་སྨོན་གྱིས། །
semchen ma je nyingje ngo mön gyi
Do not forget sentient beings;
With compassion dedicate your merit to them and make prayers of aspiration.
ཅེས་དད་ལྡན་ཀུན་བཟང་ངོར་མངྒ་ལས་སོ།།
Written for the devoted Kunzang by Maṅgala.2
Source: bkra shis dpal 'byor. "bla ma ma brjed sogs/" in gsung 'bum/_rab gsal zla ba. 25 vols. Delhi: Shechen Publications, 1994. Vol. 3: 267b
Version: 2.2-20220516
↑ Or her. The Tibetan is gender neutral.
↑ In Nepal, June 4th 1989.