Long-Life Prayer for Shechen Rabjam Rinpoche
English | Deutsch | Français | Italiano | Português | བོད་ཡིག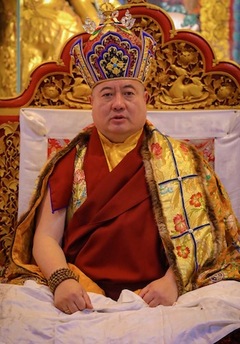 ༄༅། །ཞེ་ཆེན་རབ་འབྱམས་རིན་པོ་ཆེའི་ཞབས་བརྟན་གསོལ་འདེབས།
Prayer for the Long Life of Shechen Rabjam Rinpoche
by Kyabjé Dilgo Khyentse Rinpoche
ཀུན་བཟང་པདྨའི་རིང་ལུགས་རྫོགས་པ་ཆེ། །
kunzang pemé ringluk dzokpaché
The tradition of Samantabhadra and Padmākara is the Great Perfection, Dzogpachenpo.
བསྟན་པའི་ཉི་མ་མཚུངས་མེད་རབ་འབྱམས་པ། །
tenpé nyima tsungmé rabjampa
For its teachings you are a brilliant sun, beyond compare, infinite in your wisdom,
བཤད་སྒྲུབ་ཆོས་ཀྱི་སེངྒེ་ཟླ་བྲལ་མཆོག །
shedrub chö kyi sengé dadral chok
Peerless great lion of the Dharma, of teaching and practice:
གསང་གསུམ་རྡོ་རྗེའི་ཁམས་སུ་བརྟན་གྱུར་ཅིག །
sang sum dorje kham su ten gyur chik
May your secret body, speech and mind remain steadfast and indestructible!
ཅེས་ཞེ་ཆེན་རྒྱལ་ཚབ་རིན་པོ་ཆེ་བི་ཛ་ཡའི་གསུང་བྱིན་རླབས་ཅན་རབ་འབྱམས་བདུན་པའི་བརྟན་བཞུགས་སུ་ཞལ་བསྒྱུར་མཛད་པའི། །
These lines, which carry the blessing of the speech of Shechen Gyaltsab Rinpoche, Padma Vijaya, were adapted by Kyabjé Dilgo Khyentse Rinpoche as a prayer for the long life of the Seventh Shechen Rabjam Rinpoche.