Ripples on the Ganges
English | Deutsch | Português | བོད་ཡིག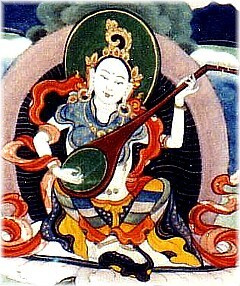 Further information:
༄༅། །ལྷ་མོ་དབྱངས་ཅན་ལ་བསྟོད་པ་གངྒཱའི་རླབས་ཕྲེང་ཞེས་བྱ་བ།
Ripples on the Ganges
In Praise of the Goddess Sarasvatī
by Jamyang Khyentse Chökyi Lodrö
ཨོཾ་སྭསྟི།
om swasti
Oṃ svasti!
འཕགས་མཆོག་ཐུགས་རྗེའི་ཟླ་བ་ཡི། །
pakchok tukjé dawa yi
Lady of language, who manifested from
ཞལ་གྱི་ཆུ་སྐྱེས་མཆེ་བ་ལས། །
zhal gyi chukyé chewa lé
The canine teeth of the lotus-like face
མངོན་པར་སྤྲུལ་པའི་སྒྲ་ལྡན་མ། །
ngönpar trulpé draden ma
Of the sublime and noble moon of mercy—1
ཚངས་པའི་སྲས་མོར་བསྟོད་པར་བགྱི། །
tsangpé semor töpar gyi
Daughter of Brahmā, to you I offer praise!
ལྷ་མོ་རིག་བྱེད་དབྱངས་དང་ལྡན། །
lhamo rikjé yang dangden
Goddess of the vedas and of eloquence,
སྭ་ར་སྭསྟི་ཞེས་གྲགས་པ། །
sara swati zhé drakpa
The one called Sarasvatī, 'She Who Flows',
སྲིད་དང་ཞི་བའི་ཁོངས་སུ་སྙན། །
si dang zhiwé khong su nyen
Renowned throughout existence and peace—
དབྱངས་ཅན་མ་ལ་ཕྱག་འཚལ་བསྟོད། །
yangchenma la chaktsal tö
Sweet Voiced Lady, to you I offer praise!
ཟླ་བ་དུང་དང་ཀུ་མུཏ་ཞལ། །
dawa dung dang ku muta zhal
Your face is like the moon, a conch or water lily,
སྨིན་མ་གནག་སྣུམ་ཨུ་ཏྤལ་མིག །
minma nak num utpal mik
With blackish brows above blue lotus eyes.
སྐེད་སྐབས་ཕྲ་ལ་མྱོས་བུམ་མཐོ། །
ké kab tra la nyö bum to
You have a slender waist, high, alluring bosom,
གསང་བའི་པདྨོ་འཛུམ་ལ་བསྟོད། །
sangwé pemo dzum la tö
And secret smiling lotus—to you I offer praise!
ཙནྡན་ས་མཆོག་དྲི་བསུང་འཐུལ། །
tsenden sa chok drisung tul
You bear the scent of white sandalwood,
ཞལ་གྱི་ཆབ་ཟེགས་ལྷའི་བདུད་རྩི། །
zhal gyi chab zek lhé dütsi
And your mouth is graced with heavenly nectar.
མཐོང་བ་ཙམ་གྱིས་འཇིག་རྟེན་གསུམ། །
tongwa tsam gyi jikten sum
The mere sight of you is enough to captivate
ཡིད་འཕྲོག་མ་ལ་ཕྱག་འཚལ་བསྟོད། །
yitrok ma la chaktsal tö
The three worlds—to you I offer praise!
སངས་རྒྱས་བྱང་ཆུབ་སེམས་དཔའ་དང་། །
sangye changchub sempa dang
All the buddhas, bodhisattvas,
ཉན་ཐོས་རང་རྒྱལ་ཐམས་ཅད་དང་། །
nyentö ranggyal tamché dang
Śrāvakas and pratyekabuddhas,
ལྷ་དང་དྲང་སྲོང་གྲུབ་རིག་འཛིན། །
lha dang drangsong drub rigdzin
Devas, sages, and accomplshed vidyādharas—
ཐམས་ཅན་ཐམས་ཅད་ཁྱེད་ལ་འདུད། །
tamchen tamché khyé la dü
They all—each and every one—bow to you!
དཀྱིལ་འཁོར་ཀུན་གྱི་རིགས་ཀྱི་ཡུམ། །
kyilkhor kün gyi rik kyi yum
Mother of the families of all maṇḍalas,
སྤྲོ་དང་བསྡུ་བའི་བྱེད་པོ་མཆོག །
tro dang duwé jepo chok
Supreme enacter of emanation and absorption,
དབྱིངས་ཡུམ་ཤེར་ཕྱིན་ཀུན་བཟང་མོ། །
ying yum sherchin kunzang mo
Space-like mother, Prajñāpāramitā, Samantabhadrī—
རྡོ་རྗེ་དབྱངས་ཀྱི་རྒྱལ་མོར་བསྟོད། །
dorjé yang kyi gyalmor tö
Queen of vajra melody, to you I offer praise!2
དེ་ལྟར་བསྟོད་པའི་དགེ་བའི་མཐུས། །
detar töpé gewé tü
Through the virtuous force of this praise,
ཟབ་ཅིང་རྒྱ་ཆེའི་བློ་གྲོས་འཕེལ། །
zab ching gyaché lodrö pel
May my understanding of the profound and vast increase,
མཁྱེན་གཉིས་སྣང་བ་རབ་རྒྱས་ནས། །
khyen nyinang ba rabgyé né
And, with the light of twofold wisdom expanded,
ཐམས་ཅད་མཁྱེན་གཟིགས་མཆོག་གྲུབ་ཤོག །
tamché khyen zik chok drub shok
May I attain the supreme state of universal insight!
ཅེས་པའང་མེ་སྤྲེལ་སྨིན་ཟླའི་ཚེས་ལ་ཆུ་བོ་གངྒཱར་གཟིངས་ཀྱི་འཕྲུལ་འཁོར་དུ་ཞུགས་པའི་ཚེ་ཆོས་ཀྱི་བློ་གྲོས་པས་གསོལ་བ་བཏབ་པ་དགེའོ།། །།
Chökyi Lodrö prayed in this way during the month of Kṛttikā [i.e., the tenth month] in the Fire Monkey year while travelling by boat along the river Ganges. May virtue abound!
| Translated by Adam Pearcey with the generous support of the Khyentse Foundation and Tertön Sogyal Trust, 2019.
Source: 'Jam dbyangs chos kyi blo gros. "lha mo dbyangs can la bstod pa gang+gA'i rlabs phreng /" in 'Jam dbyangs chos kyi blo gros kyi gsung 'bum. 12 vols. Bir: Khyentse Labrang, 2012. W1KG12986 Vol. 2: 419–420
Version: 1.4-20230124
↑ According to the Kāraṇḍavyūha Sūtra, Sarasvatī was born from the canine teeth of Avalokiteśvara.
↑ Both available editions have rdo rje dbyangs here, but it is possibly an error for rdo rje dbyings, i.e., 'queen of vajra space'.