Consecrating Amṛta for Rigdzin Düpa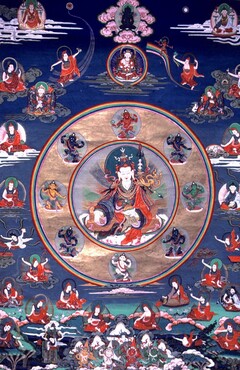 Further information:
༄༅། །རིག་འདུས་བདུད་རྩི་ཆིག་སྒྲུབ།
A Brief Practice of Consecrating Amṛta for the Vidyādhara Assembly1
by Jamyang Khyentse Wangpo
བྷྲཱུྃ་བི་ཤྭ་བི་ཤུདྡྷེ་ཨོཾ་ཨཱཿཧཱུྃ་བཛྲ་གུ་རུ་པདྨ་སིདྡྷི་ཧཱུྃ་ཕཊ྄་ཛཿ
droom bisho bishuddhé om ah hung benza guru pema siddhi hung pé dza
bhrūṃ viśva viśuddhe oṃ āḥ hūṃ vajra-guru-padma siddhi hūṃ phaṭ jaḥ
བདག་གི་ཐུགས་ཀ་ནས་ཡེ་ཤེས་པ་ལོགས་སུ་བྱེ་སྟེ་མདུན་གྱི་རྟེན་དང་དབྱེར་མེད་དུ་བཞུགས་པ་ཡོངས་སུ་གྱུར་པ་ལས།
dak gi tukka né yeshepa loksu jé té dün gyi ten dang yermé du zhukpa yongsu gyurpa lé
The wisdom deity in my heart separates and remains indivisibly with the front visualization.
སྟོང་པའི་ངང་ལས་རླུང་མེ་དང་། །
tongpé ngang lé lung mé dang
From the state of emptiness arises wind and fire.
ཐོད་པའི་སྒྱེད་བུ་གསུམ་གྱི་སྟེང་། །
töpé gyebu sum gyi teng
Above a skull-cup placed upon a tripod
ཨཱ་ལས་ཡེ་ཤེས་ཀ་པཱ་ལ། །
a lé yeshe kapala
Is the syllable ā, which transforms into a wisdom kapāla.
ཡངས་ཤིང་རྒྱ་ཆེའི་ནང་ཁོངས་སུ། །
yang shing gyaché nangkhong su
Within the kapāla's vast expanse
ལྕགས་ཀྱུ་ལྔ་དང་སྒྲོན་མ་ལྔ། །
chakkyu nga dang drönma nga
Are five iron hooks and five lights
རིགས་ལྔ་ཡབ་ཡུམ་འབྲུ་བཅུས་མཚན། །
rik nga yabyum dru chü tsen
Marked by the ten seed syllables of the male and female deities of the five families.
རླུང་གཡོས་མེ་སྦར་ཐོད་པ་དྲོས། །
lung yö mé bar töpa drö
The wind blows and the fire blazes, heating up the skull-cup
བསྐོལ་ཞིང་འོད་དུ་ཞུ་བ་ལས། །
kol zhing ö du zhuwa lé
And causing the contents to boil and melt into light.
བདུད་རྩིའི་རྒྱ་མཚོར་འཁྱིལ་བའི་དབུས། །
dütsi gyatsor khyilwé ü
In the middle of a swirling ocean of amṛta
ཕོ་བྲང་གཞལ་མེད་ཉམས་དགའ་བ༔
podrang zhalmé nyamgawa
Is the delightful palace, beyond measure.
གྲུ་བཞི་སྒོ་བཞི་མཚན་ཉིད་ལྡན༔
dru zhi go zhi tsennyi den
It is square, with four doors and all other characteristics;
བརྡ་དོན་རྟགས་གསུམ་ཡོངས་རྫོགས་པའི༔
da dön tak sum yongdzokpé
Its symbols, meanings and significance all perfectly complete.
ཕྱི་ནང་ཟང་ཐལ་ཆེན་པོའི་དབུས༔
chinang zangtal chenpö ü
Without outside or inside, it is vast, unimpeded clarity.
སྣ་ཚོགས་པདྨ་ཉི་ཟླའི་སྟེང་༔
natsok pema nyidé teng
In its centre, upon a multicoloured lotus, sun and moon, is a Hūṃ,
ཧཱུྃ་ལས་སྐད་ཅིག་དྲན་རྫོགས་སུ༔
hung lé kechik dren dzok su
Out of which, perfect in the very moment of envisioning,
བདག་ཉིད་སངས་རྒྱས་ཀུན་གྱི་དངོས༔
daknyi sangye kün gyi ngö
I arise as the actual presence of all the buddhas—2
སྣང་སྲིད་ཟིལ་གནོན་པདྨ་འབྱུང་༔
nangsi zilnön pema jung
The Lotus-Born 'Prevailing Over All That Appears and Exists'…
ཞེས་སོགས་ནས་བསྟོད་པའི་བར་ལས་གཞུང་ལྟར་སོང་རྗེས། གཟུངས་ཐག་ནས་བཟུང་ལ།
Thus, continue to recite the main text up to and including the praise. After that, take hold of the dhāraṇī-cord and recite the following:
རང་གི་ཐུགས་ནས་འོད་འཕྲོས་པས། །
rang gi tuk né ö tröpé
From my heart light radiates forth,
མདུན་བསྐྱེད་ལྷ་ཚོགས་ཐུགས་རྒྱུད་བསྐུལ། །
dünkyé lhatsok tukgyü kul
Invoking the deities of the front visualization.
དེ་ལས་བདེ་སྟོང་རོལ་པ་ཡི། །
dé lé detong rolpa yi
From the deities limitless rays of light—the play of bliss and emptiness—
འོད་ཟེར་དཔག་ཡས་མཁའ་ཁྱབ་འཕྲོས། །
özer pakyé khakhyab trö
Radiate and fill the sky.
ཕྱོགས་བཅུའི་རྒྱལ་བ་སྲས་བཅས་དང་། །
chok chü gyalwa sé ché dang
All of you victorious ones of the ten directions and your heirs,
རྩ་བརྒྱུད་རིག་འཛིན་བླ་མའི་ཚོགས། །
tsa gyü rigdzin lamé tsok
Root and lineage masters, hosts of vidyādhara gurus,
ཡི་དམ་ཞི་ཁྲོ་རབ་འབྱམས་ལྷ། །
yidam zhitro rabjam lha
Personal deities and peaceful and wrathful deities, infinite in number,
གནས་གསུམ་དཔའ་བོ་རྣལ་འབྱོར་མའི། །
né sum pawo naljormé
Heroic ones and yoginīs of the three places—
སྐུ་གསུང་ཐུགས་ཀྱི་ཡེ་ཤེས་དང་། །
ku sung tuk kyi yeshe dang
All the wisdom of your enlightened body, speech and mind,
བརྟན་གཡོ་སྲིད་ཞིའི་དྭངས་བཅུད་ཀུན། །
tenyo sizhi dang chü kün
And all the vital essences of existence and peace, animate and inanimate,
བདེ་བ་ཆེན་པོའི་རྣམ་པར་བསྡུས། །
dewa chenpö nampar dü
Are/Is gathered here into great bliss.
ཞལ་ཞུགས་སྐུ་ཡི་དབྱིབས་བརྒྱུད་ནས། །
zhal zhuk ku yi yib gyü né
The nectar enters through their mouths and fills their bodies.
ཡབ་ཡུམ་བདེ་རོལ་སྦྱོར་མཚམས་ལས། །
yabyum dé rol jortsam lé
From the point of union of the male and female deities' blissful play,
ཆར་ལྟར་བབས་ཏེ་བཅུད་ལ་ཐིམ། །
char tar bab té chü la tim
It pours down like rain and dissolves into the elixir,
མཐོང་ཚོར་མྱོང་རེག་གྲོལ་བ་ཡི། །
tong tsor nyong rek drolwa yi
Which transforms into great wisdom amṛta
ཡེ་ཤེས་བདུད་རྩི་ཆེན་པོར་གྱུར། །
yeshe dütsi chenpor gyur
That liberates upon sight, hearing, taste and touch.
བསྙེན་སྒྲུབ་ཀྱི་སྔགས་མཐར། །
After the recitation of the approach and accomplishment mantras, add this nine syllable mantra to the main mantra and recite them together:
ཨོཾ་བཛྲ་ཨ་མྲྀ་ཏ་ཧཱུྃ་ཧྲཱིཿཋཱ།
oṃ vajra-amṛita hūṃ hrīḥ thā
ཞེས་དགུ་པའི་ཛཔ྄་བཏགས་ལ་བཟླས་མཐར་མཆོད་བསྟོད་བྱ། དྲག་སྔགས་ཀྱིས་བགེགས་བསལ། བྱིན་འབེབས་ཀྱིས་གཟི་བྱིན་སྦར། ཚོགས་ཀྱི་འཁོར་ལོས་དགྱེས་པ་བསྐྱེད་པ་སོགས་ནས་ནོངས་བཤགས་པར་དཀྱུས་ལྟར།
At the end, present the offerings and recite the praise. Expel the obstructive forces with wrathful mantras and carry out the descent of blessings, causing everything to blaze with splendour. Generate delight through the wheel of the feast-gathering and confess any mistakes as is done usually.
མདུན་བསྐྱེད་ཀྱི་ལྷ་འོད་དུ་ཞུ་བ་ལས་མྱོང་གྲོལ་བདུད་རྩིའི་ཕུང་པོར་གྱུར། །
The deities of the front visualization melt into light and transform into heaps of amṛta that liberates on taste.
ཅེས་བརྗོད་ཅིང་བསམས་ལ་བརྟན་བཞུགས། བསྡུ་ལྡང་། བསྔོ་སྨོན། བཀྲ་ཤིས་བྱའོ།། །།
Recite this, imagining that it happens. Then request the deities to remain, carry out the dissolution and re-emergence, and recite prayers of dedication, aspiration and auspiciousness.
| Translated by Han Kop and reviewed by Stefan Mang, 2021, for the Longchen Nyingtik Project. With gratitude to Tulku Dawa Rinpoche for his clarifications.
Source: 'Jigs med gling pa. "rig 'dus bdud rtsi chig sgrub", in klong chen snying thig rtsa pod. 5 Vols. BDRC W1KG13585. Bodhnath, Kathmandu and Bodhgaya, Bihar: Shechen Publications, 1994. Vol. 4: 77–78.
↑ The Vidyādhara Assembly, the Inner Practice of the Heart Essence of the Vast Expanse (Rigdzin Düpa).
↑ This line seems to have been omitted in our Tibetan text.