Purifying Samaya through Vajrasattva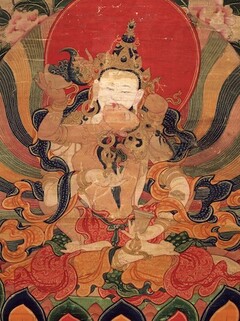 Further information:
༄༅། །དཔལ་ལྡན་བླ་མ་རྡོ་རྗེ་སེམས་དཔའ་ལ་བརྟེན་ནས་ཉམས་གྲིབ་སྦྱང་བའི་ཐབས་བཞུགས།
A Method of Purifying Samaya Violations by Relying on the Glorious Guru Vajrasattva
by Mipham Rinpoche
བདག་གི་སྙིང་དབུས་པདྨ་ཟླ་བའི་སྟེང་། །
dak gi nying ü pema dawé teng
Upon a lotus and moon disc at the center of my heart
རྩ་བའི་བླ་མ་དཔལ་ལྡན་རྡོ་རྗེ་སེམས། །
tsawé lama palden dorjé sem
Is the glorious Vajrasattva, my root Guru,
དཀར་གསལ་རྡོ་རྗེ་དྲིལ་འཛིན་ལོངས་སྐུའི་ཆས། །
karsal dorjé dril dzin longkü ché
Pure white in color, holding vajra and bell and with the dress of a saṃbhogakāya,
བདེ་ཆེན་སྙེམས་མ་ཡུམ་དང་མཉམ་པར་སྦྱོར། །
dechen nyemma yum dang nyampar jor
In union with the consort, Vajragarvā of great bliss.1
སྐུ་ལས་འོད་ཟེར་བདུད་རྩི་དཀར་པོའི་རྒྱུན། །
ku lé özer dütsi karpö gyün
From their bodies, a white stream of amṛta and rays of light flow down filling my entire body.
བབ་པས་ལུས་གང་ནད་གདོན་སྡིག་སྒྲིབ་དང་། །
babpé lü gang nedön dikdrib dang
Through this, all sicknesses, evil influences, misdeeds, obscurations
དམ་ཚིག་ཉམས་ཆགས་ཐམས་ཅད་དག་གྱུར་ནས། །
damtsik nyamchak tamché dak gyur né
And violations of samaya are completely purified.
བདེ་ཆེན་མཉམ་ཉིད་རྡོ་རྗེའི་སྐུ་ཐོབ་གྱུར། །
dechen nyamnyi dorjé ku tob gyur
And I obtain the vajra body of great bliss and equanimity.
ཨོཾ་བཛྲ་ས་ཏྭ་ཧཱུྃཿ
om benza sato hung
Oṃ vajrasattva hūṃ
ཞེས་ཅི་འགྲུབ་བཟླས་ནས་དགེ་བསྔོ་ཤིས་བརྗོད་བྱའོ། །
Recite the mantra as many times as you can. Then, conclude with the dedication of merit and verses of auspiciousness.
ས་སྤྲེལ་ཟླ་ ༣ ཚེས་ ༩ ལ་མི་ཕམ་པས་བྲིས་པ་མཆོག་ཏུ་དགེའོ། །
Mipham wrote on the ninth day of the third month of Earth Monkey year (1908). May there be supreme excellence!
| Translated by Abraham Ta-Quan, 2019.
Version: 1.2-20220802
↑ Although Vajrāṭopā is sometimes given as the Sanskrit name of Vajrasattva's consort, whose Tibetan name is Dorje Nyemma (rdo rje snyems ma), it seems that the correct Sanskrit name, which is attested in extant sources, is Vajragarvā