Advice to Ngadak Nyang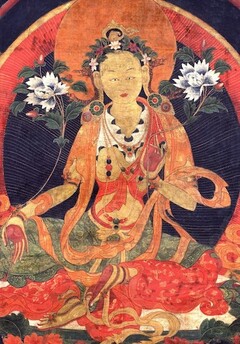 Further information:
Advice to Ngadak Nyang
from Noble Tārā
Extracted from the advice spoken by perfect buddhas and vidyādharas to the great treasure-revealer and sovereign of Dharma, Ngadak Nyima Özer.
Noble Tārā spoke the following:
ཨེ་མ་ཧོ།
འཁོར་བ་སྤང་དུ་མེད་དེ་སེམས་ལས་ལོགས་ན་མེད། །
མྱང་འདས་བསྒྲུབ་ཏུ་མེད་དེ་སེམས་ཀྱི་ངོ་བོ་ཉིད། །
འཁོར་འདས་གཉིས་སུ་མེད་དེ་ཆུ་དང་ཆབ་རོམ་ལྟར། །
དབྱེར་མེད་བདེ་ཆེན་འོད་གསལ་ངང་དུ་མཉམ་པར་ཞོག །
Emaho!
Saṃsāra is not to be rejected, for it is none other than the mind.
Nirvāṇa is not to be achieved, for it is the essence of mind itself.
Saṃsāra and nirvāṇa are not a duality, just like ice and water.
Rest evenly in the state that's inseparable, luminous great bliss.
This is what she said.
| Translated by Adam Pearcey, 2023.
Bibliography
Tibetan Edition
Myang nyi ma 'od zer. "mnga' bdag myang gi zhal gdams." In mkha' 'gro'i chos mdzod chen mo. 53 vols. Lhasa: Bod ljongs bod yig dpe rnying dpe skrun khang, 2017. Vol. 23: 1.
Version: 1.1-20230312