As Those Who Possess Bodhicitta…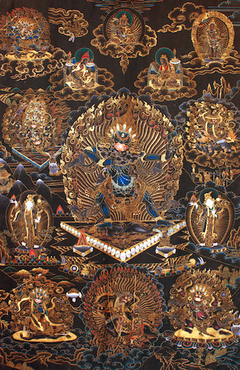 Further information:
༄༅། །བྱང་ཆུབ་སེམས་དང་ལྡན་པ་སོགས།
As Those Individuals Who Possess Bodhicitta…1
by Patrul Rinpoche
བྱང་ཆུབ་སེམས་དང་ལྡན་པའི་སྐྱེས་བུ་ཡིས། །
changchub sem dang denpé kyebu yi
As those individuals who possess bodhicitta
ཐུགས་བསྐྱེད་དམ་བཅའ་མི་ཉམས་བསྟན་འགྲོའི་དོན། །
tukkyé damcha mi nyam tendrö dön
Unfailingly uphold their vows for the sake of the Teachings and beings
སྐལ་མེད་ཐར་པའི་ས་བོན་འདེབས་པ་ལ། །
kalmé tarpé sabön debpa la
And plant the seed of liberation in ill-fated beings,
དམ་ཅན་རྒྱ་མཚོས་རུ་ང་ཕྲག་དོག་སྤོངས། །
damchen gyatsö ru nga trakdok pong
Let the ocean of oath-bound ones leave aside all malice and envy!
ཤིན་ཏུ་གདུལ་དཀའ་ལས་འབྲེལ་མེད་པའི་རིགས། །
shintu dul ka ledrel mepé rik
Those who lack karmic connection and are extremely difficult to subdue
བཀའ་སྲུང་དྲེགས་པའི་ཟ་ཁ་ཟུག་པ་ལ། །
kasung drekpé za kha zukpa la
And who have incited the wrathful punishment of the dharmapālas,
ཕྱི་ཚུལ་འཇམ་པོས་འབྲེལ་བ་བཞག་ན་འང་། །
chi tsul jampö drelwa zhak na ang
Even though they might maintain some semblance of meekness,
བཀའ་སྡོང་ཕོ་ཉའི་ཚོགས་ཀྱིས་ཟ་ངུ་གྱིས། །
ka dong ponyé tsok kyi za ngu gyi
Let the hosts of attendants and messengers devour them!
བསྟན་འཛིན་སྐྱེས་བུའི་སྐུ་ཚེ་བརྟན་པ་དང་། །
tendzin kyebü kutsé tenpa dang
May the lives of the holders of the Teachings remain secure,
རྒྱལ་བསྟན་དར་རྒྱས་འགྲོ་བའི་བདེ་སྐྱིད་སྤེལ། །
gyalten dargyé drowé dekyi pel
The Buddha's Teachings flourish and spread, and the happiness of beings increase.
དམག་ཇག་ཆོམ་པོའི་ལས་ངན་རྒྱུན་ཆད་ནས། །
mak jak chompö lé ngen gyün ché dé
Put an end to the evil actions of armies, bandits and robbers,
བསམ་དོན་ལྷུན་གྱིས་འགྲུབ་པའི་ཕྲིན་ལས་མཛོད། །
samdön lhün gyi drubpé trinlé dzö
And carry out your enlightened activities of spontaneously fulfilling our every wish!
འདི་མཚམས་སྤྲུལ་རིན་པོ་ཆེ་མགོ་ལོག་ཏུ་ཕེབས་སྐབས་དཔལ་སྤྲུལ་པས་སོ།།
Patrul composed this when Tsamtrul Rinpoche2 was departing for Golok.
| Translated by Han Kop & Adam Pearcey with the assistance of Khenpo Sonam Tsewang, for the Longchen Nyingtik Project, 2023.
Sources:
O rgyan 'jigs med chos kyi dbang po. gsung 'bum/_o rgyan 'jigs med chos kyi dbang po. Chengdu: Si khron mi rigs dpe skrun khang, 2003. (BDRC W25007) Vol. 8: 86
'Jigs med gling pa / dPal sprul rin po che. "byang chub sems dang ldan pa'i skyes bu yis", in klong chen snying thig rtsa pod. New Delhi: Shechen Publications, 1994. Vol. 5: 63–64.
Version: 1.0-20230807
↑ The original is untitled; this title has been added by the translators.
↑ i.e., Kunzang Dechen Dorje, the incarnation of Jigme Gyalwai Nyugu (1765–1842).