Prayer to Buddha Amitābha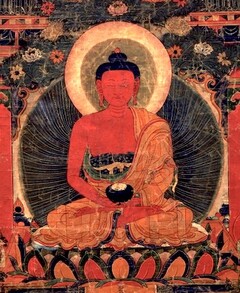 Further information:
༄༅། །འོད་དཔག་མེད་ཀྱི་གསོལ་འདེབས། །
Prayer to Buddha Amitābha
by Dodrupchen Jigme Tenpai Nyima
རྒྱལ་བ་འོད་དཔག་མེད་མགོན་ལ། །
gyalwa öpakmé gön la
O Victorious One and Protector Amitābha,
གསོལ་བ་འདེབས་སོ་བྱིན་གྱིས་རློབས། །
solwa deb so jingyi lob
To you I pray: inspire me with your blessing.
ཚེ་འདི་འཕོས་མ་ཐག་པ་རུ། །
tsé di pö matak pa ru
As soon as it is time to leave this life behind,
བདེ་བ་ཅན་དུ་དྲང་དུ་གསོལ། །
dewachen du drang du sol
Guide me, I pray, to the realm of Sukhāvatī!
བློ་བཟང་ལའོ།།
For Lobzang.
| Translated by Abraham Ta-Quan, 2020.