Prayer for Śrī Ben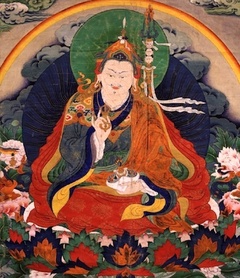 Further information:
༄༅། །པདྨ་འབྱུང་གནས་སོགས་ཀྱི་གསོལ་གདེབས།
Prayer to Padmasambhava, Longchenpa and Jigme Lingpa
by Dodrupchen Jigme Tenpai Nyima
འཇིགས་བྲལ་འཆི་མེད་སྐུ་ཅན་པདྨ་འབྱུང་། །
jikdral chimé kuchen pema jung
Padmasambhava, fearless possessor of immortal form,
ཐེག་མཆོག་བསྟན་པའི་ཤིང་རྟ་ཀློང་ཆེན་པ། །
tek chok tenpé shingta longchenpa
Longchenpa, chariot of the teachings of the Supreme Vehicle,
གངས་ཅན་ཕན་བདེའི་ཉི་མ་འཇིགས་བྲལ་གླིང་། །
gangchen pendé nyima jikdral ling
Jigme Lingpa, sun of benefit and well-being for this snowy land—
གསོལ་བ་འདེབས་སོ་དོན་གཉིས་ལྷུན་གྲུབ་ཤོག །
solwa deb so dön nyi lhündrub shok
To you I pray: spontaneously accomplish my own and others' benefit!
ཤྲི་བན་གྱི་ངོར་བྲིས།།
Written at the request of Śrī Ben.
| Translated by Abraham Ta-Quan, 2020.