Confession and Fulfilment Insert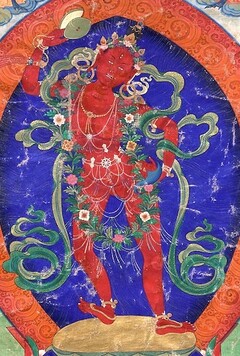 Further information:
༄༅། །མཁའ་འགྲོ་བསུན་བཟློག་གི་གྲངས་གསོག་སྐོང་བཤགས་ཀྱི་འཛུད།
Confession and Fulfilment Insert for Accumulating the Practice of Turning Back the Summons of the Ḍākinīs
by Rigdzin Jikmé Lingpa
གངས་ཅན་མཚོ་ཡི་ཞིང་ཁམས་ལ། །
gangchen tso yi zhingkham la
From every sacred land and place of power,
ཇི་སྙེད་བཀོད་པའི་གནས་ཡུལ་དང༌། །
jinyé köpé neyul dang
From all the cities of ḍākas and ḍākinīs,
དཔའ་བོ་མཁའ་འགྲོའི་གྲོང་ཁྱེར་ནས། །
pawo khandrö drongkhyer né
Throughout the vast cosmos of Gangchen Tso,
རྡོ་རྗེ་རིན་ཆེན་པདྨ་ལས། །
dorjé rinchen pema lé
You ḍākinīs in your huge throng,
འབུམ་ཕྲག་ཡངས་པའི་མཁའ་འགྲོའི་ཚོགས། །
bumtrak yangpé khandrö tsok
In families: Vajra, Ratna, Padma and Karma, in your hundreds of thousands—come now to this place!
འདིར་བྱོན་ཉེར་སྤྱོད་འདོད་ཡོན་དང༌། །
dir jön nyerchö döyön dang
With these sense offerings and stimulants
ཚོགས་ཀྱི་འཁོར་ལོས་ཐུགས་དམ་བསྐང༌། །
tsok kyi khorlö tukdam kang
And with this tsok feast, all your sacred wishes are fulfilled!
ཐེག་པ་གསུམ་དང་རིག་འཛིན་གྱི། །
tekpa sum dang rigdzin gyi
We confess and heal all impairments and breakages
སྡོམ་གསུམ་དམ་ཚིག་ཉམས་ཆག་བཤགས། །
dom sum damtsik nyamchak shak
In the vows and samayas of the three yānas, and of the vidyādharas!
བསྟན་པ་རྒྱ་མཚོ་སྒྲོན་མེ་ཆེ། །
tenpa gyatso drönmé ché
For this supreme master who resides here,
སེམས་ཅན་ཡོངས་ཀྱི་དཔུང་དང་གཉེན། །
semchen yong kyi pung dang nyen
This great torch of the ocean-like teaching of Buddha,
འདི་ན་བཞུགས་པའི་སྐྱེས་མཆོག་གི། །
di na zhukpé kyechok gi
This protector and friend to every sentient being:
ཚེ་འཕྲང་བར་ཆད་དབྱིངས་སུ་སོལ། །
tsé trang barché ying su sol
Dispel all dangers to life and obstacles into space!
དཔའ་བོ་མཁའ་འགྲོའི་སུན་ཁ་བཟློག །
pawo khandrö sünkha dok
Turn back the summons of the ḍākas and ḍākinīs!
ཞབས་པད་བརྟན་པའི་བཀྲ་ཤིས་སྩོལ། །
zhabpé tenpé tashi tsol
Let everything be auspicious for a life that is secure and long!
འདི་བསུན་ཟློག་རྒྱས་པ་ཚོགས་བརྒྱ་དང་འབྲེལ་སྐབས་ཡུམ་ཀའི་ཚོགས་ཀྱི་སྐོང་བཤགས་མལ་དུ་འཛུད་པ་ལག་ལེན་ནོ།། །།
This practice is to be inserted in place of the confession and fulfilment in the Yumka tsok when practising a hundred tsok offerings1 of the elaborate practice of Turning Back the Summons.
| Rigpa Translations, edited and adapted for Lotsawa House, 2019.
↑ i.e., a large number of Tsok offerings, not necessarily one hundred.