Remainder Torma Offering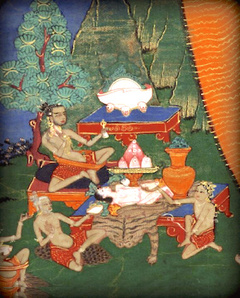 Further information:
༄༅། །ཚིགས་བདུན་ཚོགས་མཆོད་ཀྱི་ལྷག་གཏོར་ནི།
Remainder Torma Offering for Seven-Line Prayer Guru Yoga
by Dudjom Rinpoche
ལྷག་གཏོར་ལ་བདུད་རྩི་བྲན་ཅིང༌།
Sprinkle the remainder torma with amṛta and bless it with:
ཨོཾ་ཨཱཿཧཱུྃ་གིས་བྱིན་བརླབས་ནས།
om ah hung
oṃ āḥ hūṃ
ཕེཾ་ཧཱུྃ། དཔལ་གྱི་བཀའ་ཉན་ཐ་ཚིག་ཅན། །
pem hung, pal gyi kanyen tatsik chen
Peṃ hūṃ! All of you attendants who promised to obey the command of the Glorious One,
ལྷག་སྐྱོང་མགྲོན་རིགས་ཐམས་ཅད་ཀུན། །
lhak kyong drön rik tamché kün
All of you various guests who feed on the remainder,
འདིར་བྱོན་འདོད་ཡོན་ལྷག་གཏོར་བཞེས། །
dir jön döyön lhaktor zhé
Come here and accept this remainder torma of sensual delights.
དགྱེས་ཤིང་ཚིམས་པར་རོལ་ནས་ཀྱང༌། །
gyé shing tsimpar rol né kyang
Once you have enjoyed it with pleasure and satisfaction,
སངས་རྒྱས་བསྟན་དང་བསྟན་འཛིན་སྐྱོངས། །
sangye ten dang tendzin kyong
Protect the Buddhadharma and its holders!
རྣལ་འབྱོར་སྒྲུབ་པའི་བར་ཆད་སོལ། །
naljor drubpé barché sol
Dispel all obstacles for its practitioners!
འདོད་དོན་བཅོལ་བའི་ཕྲིན་ལས་སྒྲུབས། །
dödön cholwé trinlé drub
In accordance with our wishes carry out the actions entrusted to you!
དམ་ལས་མ་འདའ་ས་མ་ཡ། །
dam lé ma da samaya
Do not transgress your oaths: samaya!
ཨུཙྪིཥྚ་བ་ལིཾ་ཏ་ཁཱ་ཧི། །
utsita baling ta khahi
ucchiṣṭa-baliṅte khāhi
ཞེས་ཕྱི་རོལ་དུ་འབུལ་ལོ། །
With this offer the torma outside.
ཞེས་མི་ཕམ་ཚིགས་བདུན་ཚོགས་མཆོད་ལ་སྦྱར་རྒྱུར་ས་སྐྱ་བདག་ཆེན་ཕུན་ཚོགས་ཕོ་བྲང་པའི་བཞེད་པ་བཞིན་ཛྙཱ་ནས་སོ།།
At the request of Sakya Dakchen of the Phuntsok Podrang1 this remainder offering for Mipham's Seven Line Prayer Guru Yoga Feast Gathering2 was composed by Jñāna.
| Translated by Samye Translations (Stefan Mang), 2020.
Source: 'jigs bral ye shes rdo rje. "mi pham tshigs bdun tshogs mchod la sbyar rgyu lhag chog/" in gsung 'bum/_'jigs bral ye shes rdo rje. BDRC W20869. 25 vols. Kalimpong: Dupjung Lama, 1979–1985. Vol. 23: 545
Version: 1.2-20221230
↑ That is Jigdal Dagchen Sakya Rinpoche ('jigs bral bdag chen sa skya rin po che, 1929–2016).
↑ That is The Excellent Vase of Splendour: The Tsok Feast Offering to Accompany the Vajra Seven-Line Prayer (rdo rje'i tshig bdun dang 'brel ba'i tshogs mchod dpal gyi bum bzang).