Longchenpa Guru Yoga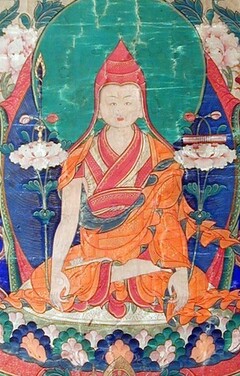 ༄༅། །ཀུན་མཁྱེན་ཀློང་ཆེན་པའི་བླ་མའི་རྣལ་འབྱོར་ཡེ་ཤེས་སྣང་སྟེར་ཅེས་བྱ་བ་བཞུགས་སོ། །
Giver of the Light of Wisdom
A Guru Yoga of the Omniscient Longchenpa
by Jamyang Khyentse Chökyi Lodrö
བླ་མ་ལ་ཕྱག་འཚལ་ལོ། །
Homage to the guru!
ཀུན་མཁྱེན་ཆོས་ཀྱི་རྒྱལ་པོར་མི་ཕྱེད་པའི་དད་པ་དང་མོས་གུས་དྲག་པོ་དང་ལྡན་པ་རྣམས་ཀྱིས་ལམ་ཟབ་མོ་འདི་ལ་འཇུག་པར་བྱ་སྟེ། དེ་ལ་ཐོག་མར་སྐྱབས་སེམས་ནི།
Those who possess unshakeable faith and intense devotion towards the Omniscient King of Dharma should set out upon this profound path, which begins with refuge and bodhicitta:
ཨཿ རང་བྱུང་སྟོང་གསལ་ཆོས་ཀྱི་དབྱིངས། །
ah, rangjung tong sal chö kyi ying
Aḥ! Self-arisen clarity and emptiness, the dharmadhātu—
ཡེ་ཤེས་སྐུ་ཅན་བླ་མ་ལ། །
yeshe kuchen lama la
In the guru who possesses the primordial wisdom kāya
མི་ཕྱེད་གུས་པས་སྐྱབས་སུ་མཆི། །
miché güpé kyab su chi
I take refuge with unwavering devotion.
འགྲོ་རྣམས་བླ་མའི་སར་འགོད་བགྱི། །
dro nam lamé sar gö gyi
I vow to lead beings to the guru's level.
རྟེན་བསྐྱེད་ནི།
Visualization
ཨ། སྣོད་བཅུད་འཛིན་ཞེན་དག་པའི་ཀློང་། །
ah, nöchü dzin zhen dakpé long
Ah. In the expanse in which clinging to environment and inhabitants is purified,
རང་བྱུང་འཇའ་འོད་འཁྲིགས་པའི་དབུས། །
rangjung ja ö trikpé ü
Amidst an expanse of rainbow light,
སེང་ཁྲི་པད་མ་ཟླ་བའི་སྟེང་། །
sengtri pema dawé teng
Upon a lion-throne, lotus and moon,
རང་རིག་ཀུན་མཁྱེན་བླ་མ་ནི། །
rangrig künkhyen lama ni
My own awareness manifests as the Omniscient Guru,
ཞི་འཛུམ་པཎྜི་ཏ་ཡི་ཆས། །
zhi dzum pandita yi ché
Smiling serenely, wearing the costume of a paṇḍita,
སེམས་ཉིད་ངལ་གསོའི་ཕྱག་རྒྱ་ཅན། །
semnyi ngalsö chakgya chen
And adopting the gesture of finding comfort and ease in mind-as-such.
སྐུ་ལ་རྩ་གསུམ་དཀྱིལ་འཁོར་རྫོགས། །
ku la tsa sum kyilkhor dzok
Within his form the maṇḍalas of the Three Roots are all complete.
མ་བསྐྱེད་ཡེ་རྫོགས་ལྷུན་གྱིས་གྲུབ། །
ma kyé yé dzok lhün gyi drub
Not generated, he is primordially perfect, spontaneously present—
གཟོད་ནས་དམ་ཡེ་འདུ་འབྲལ་མེད། །
zö né damyé dudral mé
Samayasattva and jñānasattva forever beyond union and separation.
ཡེ་ཤེས་ལྷུན་གྲུབ་ཆེན་པོར་གསལ། །
yeshe lhündrub chenpor sal
He manifests clearly as great spontaneously present wisdom.
ཚོགས་བསགས་པ་ནི།
Gathering the Accumulations
རང་རིག་ལྷ་དང་གཉིས་སུ་མེད། །
rangrig lha dang nyisumé
Within the non-duality of my own awareness and the deity,
དག་མཉམ་ཆེན་པོའི་ཕྱག་གིས་འདུད། །
dak nyam chenpö chak gi dü
I bow down in the homage of great purity and equalness.
འཁོར་འདས་རོ་མཉམ་ངང་དུ་མཆོད། །
khordé ronyam ngang du chö
While experiencing the equal taste of saṃsāra and nirvāṇa, I offer.
སྡིག་ལྟུང་སྐྱེ་མེད་ཀློང་དུ་བཤགས། །
diktung kyemé long du shak
In the expanse in which misdeeds and downfalls do not arise, I confess.
རང་གྲོལ་རིག་པ་རྗེས་ཡི་རངས། །
rangdrol rigpa jé yirang
In the spontaneous freedom of awareness, I rejoice.
འཕོ་མེད་ཁྱབ་བརྡལ་ཆེན་པོར་བཞུགས། །
pomé khyabdal chenpor zhuk
Remain, I pray, in great pervasiveness beyond transference.
རྩོལ་བྲལ་ཆོས་འཁོར་བསྐོར་བར་བསྐུལ། །
tsoldral chökhor korwar kul
Turn the wheel of effortless Dharma, I implore you.
ཆོས་དབྱིངས་ཡེ་གྲོལ་ཆེན་པོར་བསྔོ། །
chöying yedrol chenpor ngo
In the great primordial freedom of the dharmadhātu, I dedicate.
མཎྜལ་ནི།
Maṇḍala Offering
ཕྱི་སྣོད་འཇིག་རྟེན་དཔལ་འབྱོར་དང་། །
chinö jikten paljor dang
The outer world filled with splendid riches
ནང་བཅུད་ཕུང་ཁམས་མཎྜ་ལར། །
nangchü pung kham mandalar
And its inhabitants' aggregates and elements—
དབྱིངས་སྣང་འཇའ་འོད་ཚོམ་བུ་བཀྲ། །
ying nang ja ö tsombu tra
As a maṇḍala, clusters of rainbow light in space,
སྐུ་གསུམ་དོན་གྱི་ལྷ་ལ་འབུལ། །
ku sum dön gyi lha la bul
I offer to the ultimate deities of the three kāyas.
ཨོཾ་གུ་རུ་མཎྜ་ལ་པཱུ་ཛ་ཨཱཿཧཱུྃ།
om guru mandala pudza ah hung
oṃ guru-maṇḍala-pūja āḥ hūṃ
གསོལ་འདེབས་ནི།
Prayer
འོད་གསལ་སྣང་བཞི་མཐར་ཕྱིན་ཅིང་། །
ösal nang zhi tarchin ching
You completely mastered the four luminous visions
རིག་པ་མི་འགྱུར་སྐུ་ལྔར་བཞེངས། །
rigpa mingyur ku ngar zheng
And arose in the five kāyas of unchanging awareness,
རང་བྱུང་གཟི་བརྗིད་དཔལ་དུ་འབར། །
rangjung ziji pal du bar
Blazing with naturally arisen majesty and splendour—
གདོད་མའི་མགོན་པོ་ཀློང་ཆེན་པ། །
dömé gönpo longchenpa
Primordial protector Longchenpa,
དྲི་མེད་འོད་ཟེར་ལ་ཕྱག་འཚལ། །
drimé özer la chaktsal
Drimé Özer, to you I pay homage.
རྩེ་གཅིག་གུས་པས་གསོལ་བ་འདེབས། །
tsechik güpé solwa deb
With single-pointed devotion, I pray to you:
རྟག་ཏུ་ཐུགས་རྗེས་བྱིན་གྱིས་རློབས། །
taktu tukjé jingyi lob
Always bless me with your compassion.
ཡེ་ཤེས་སྣང་བ་རྒྱས་པར་མཛོད། །
yeshe nangwa gyepar dzö
Cause my wisdom experience to increase,
བླ་མ་ཁྱེད་དང་མཉམ་པར་ཤོག །
lama khyé dang nyampar shok
And, O Guru, let me become your equal.
ཨོཾ་ཨཱཿམ་ཧཱ་གུ་རུ་སརྦ་སིདྡྷི་ཧཱུྃ།
om ah maha guru sarva siddhi hung
oṃ āḥ mahāguru sarva siddhi hūṃ
ཞེས་བཟླ།
Recite this mantra.
དབང་བླང་བ་ནི། །
Receiving Empowerment
འོ། མཁྱེན་ནོ་མཁྱེན་ནོ་ཀུན་མཁྱེན་བླ་མ། །
o khyen no khyen no künkhyen lama
O! Care for me! Omniscient guru, care for me!
བདག་རྒྱུད་བྱིན་གྱིས་བརླབ་པར་མཛོད་ཅིག །
dak gyü jingyi lab par dzö chik
Let your blessings infuse my mindstream.
ཡེ་ཤེས་རྡོ་རྗེའི་དབང་ཆེན་བསྐུར་ནས། །
yeshe dorjé wangchen kur né
Bestow the great empowerment of vajra wisdom
སྐུ་བཞིའི་ས་བོན་ཐེབས་པར་མཛོད་ཅིག །
ku zhi sabön tebpar dzö chik
And sow the seeds of the four kāyas within me.
རྩེ་གཅིག་གསོལ་བ་བཏབ་པ་ལས། །
tsechik solwa tabpa lé
Through my single-pointed supplication,
བླ་མ་དགྱེས་པའི་ཉམས་དང་ལྡན། །
lama gyepé nyam dangden
The guru assumes a joyous expression
བྱིན་རླབས་གཟི་བརྗིད་དཔལ་དུ་འབར། །
jinlab ziji pal du bar
And blazes with blessings and resplendence.
བླ་མའི་དཔྲལ་མགྲིན་ཐུགས་ཀ་ནས། །
lamé tral drin tukka né
From the guru's forehead, throat and heart,
རང་འདྲའི་སྐུ་དང་ཡིག་འབྲུ་གསུམ། །
rang dré ku dang yikdru sum
Replica forms and the three seed-syllables
འོད་ཟེར་བདུད་རྩི་དང་བཅས་བྱུང་། །
özer dütsi dangché jung
Emerge together with light-rays and nectar,
རང་གི་གནས་གསུམ་ཐིམ་པ་ཡིས། །
rang gi né sum timpa yi
Which, as they dissolve into my own three centres,
སྒྲིབ་དག་བྱིན་རླབས་དབང་བསྐུར་ཐོབ། །
drib dak jinlab wangkur tob
Purify obscurations, confer blessings and empowerment,
སྐུ་བཞིའི་གོ་འཕང་རྒྱུད་ལ་བཞག །
ku zhi gopang gyü la zhak
And establish the state of the four kāyas within my mind.
མཐར་ནི་བླ་མ་འོད་དུ་ཞུ། །
tar ni lama ö du zhu
Finally the guru melts into light,
དྷཱིཿཡིག་དམར་སེར་གྱུར་པ་ཉིད། །
dhih yik marser gyurpa nyi
Becomes an orange dhīḥ syllable,
རང་གི་སྙིང་དབུས་ཐིམ་པ་ལས། །
rang gi nying ü timpa lé
Which dissolves into the centre of my heart,
རིག་སྟོང་དགོངས་པའི་རྩལ་ཆེན་རྫོགས། །
riktong gongpé tsal chen dzok
Perfecting the great strength of awareness-emptiness realization,
ཡིད་དཔྱོད་སྤྲོས་དང་བྲལ་བ་ཡི། །
yichö trö dang dralwa yi
And I rest in the primordially pure state beyond the ordinary mind,
ཀ་དག་བློ་འདས་ངང་དུ་བཞག །
kadak lodé ngang du zhak
Free from the elaboration of speculative notions.
ཅེས་ཅི་གནས་སུ་མཉམ་པར་བཞག །
Rest in meditative equipoise for as long as possible.
སླར་ཡང་ཙིཏྟའི་འོད་ཁྱིམ་དུ། །
lar yang tsitté ö khyim du
Once again, within the light sphere at my heart,
དྷཱིཿཡིག་ཡོངས་སུ་གྱུར་པ་ལས། །
dhih yik yongsu gyurpa lé
The syllable dhīḥ completely transforms
བླ་མ་འཇམ་དཔལ་ལོངས་སྤྱོད་རྫོགས། །
lama jampal longchö dzok
Into the sambhogakāya guru Mañjuśrī—
དམར་སེར་རལ་གྲི་གླེགས་བམ་འཛིན། །
marser raldri lekbam dzin
Orange, holding a sword and book,
ཞི་འཛུམ་དར་དང་རིན་ཆེན་བརྒྱན། །
zhi dzum dar dang rinchen gyen
Peaceful, smiling, with silk and jewel adornments,
ཞབས་གཉིས་རྡོ་རྗེའི་སྐྱིལ་ཀྲུང་བཞུགས། །
zhab nyi dorjé kyiltrung zhuk
And two legs crossed in the vajra posture.
ཐུགས་ཀར་ཟླ་བ་ལ་གནས་པའི། །
tukkar dawa la nepé
At his heart upon a moon disc
དྷཱིཿམཐར་སྔགས་ཀྱི་ཕྲེང་བས་བསྐོར། །
dhih tar ngak kyi trengwé kor
Is a dhīḥ encircled by the mantra garland.
འོད་འཕྲོས་རྒྱལ་བ་སྲས་བཅས་མཆོད། །
ö trö gyalwa sé ché chö
Light emanates, offers to the victors and their heirs
མཁྱེན་བརྩེའི་བྱིན་རླབས་ཐམས་ཅད་བསྡུས། །
khyentsé jinlab tamché dü
And collects all their blessings of knowledge and love.
བདག་བློའི་གཏི་མུག་མུན་པ་སེལ། །
dak lö timuk münpa sel
The darkness of my mind's delusion is dispelled,
བློ་གྲོས་སྣང་བ་རྒྱས་པར་གྱུར། །
lodrö nangwa gyepar gyur
And the light of its intelligence expands.
ཨོཾ་སརྦ་དྷརྨཱ་བྷཱ་བ་སྭ་བྷཱ་ཝ་བི་ཤུདྡྷ་བཛྲ་ཨ་ཨཱ་ཨཾ་ཨཿ།
om sarva dharma bhava sobhava bishuddha benza a a am ah
oṃ sarva-dharmābhāva-svabhāva viśuddha-vajra a ā aṃ aḥ |
པྲ་ཀྲྀ་ཏི་པ་རི་ཤུདྡྷཱཿསརྦ་དྷརྨྰ་ཡ་དུ་ཏ་སརྦ་ཏ་ཐཱ་ག་ཏ་ཛྙཱ་ན་ཀཱ་ཡ་མཉྫུ་ཤྲྰི་པ་རི་ཤུདྡྷི་ཏཱ་མུ་པཱ་དཱ་ཡེ་ཏི་ཨ་ཨཱཿ།
prakriti parishuddha sarva dharma yad uta sarva tathagata jnanakaya manjushri pari shuddhitam upadayeti a ah
prakṛti-pariśuddhāḥ sarva-dharmā yad uta sarva-tathāgata-jñāna-kāya-mañjuśrī-pariśuddhitām upādāyeti a āḥ |
སརྦ་ཏ་ཐཱ་ག་ཏ་ཧྲཱི་ད་ཡཾ་ཧ་ར་ཧ་ར།
sarva tathagata hridayang hara hara
sarva-tathāgata-hṛdayaṃ hara hara |
ཨོཾ་ཧཱུྃ་ཧྲཱིཿབྷ་ག་བན་ཛྙཱ་ན་མཱུརྟི། བཱ་གཱི་ཤྭ་ར། མ་ཧཱ་བཱ་ཙ། སརྦ་དྷརྨ་ག་ག་ནཱ་མ་ལ་སུ་པ་རི་ཤུདྡྷ་དྷརྨ་དྷཱ་ཏུ་ཛྙཱ་ན་གརྦྷ་ཨཱཿ།
om hung hrih bhagavan jnanamurti vagishvara mahavatsa sarvadharma gaganamala suparishudha dharmadhatu jnanagarbha ah
oṃ hūṃ hrīḥ bhagavan jñāna-mūrti vāg-īśvara mahā-vāca sarva-dharma gaganāmala-supariśuddha-dharma-dhātu-jñāna-garbha āḥ |1
ཞེས་དང་།
And:
ཨོཾ་ཨ་ར་པ་ཙ་ན་དྷཱིཿ
om a ra pa tsa na dhih
oṃ a ra pa ca na dhīḥ
ཅི་ནུས་དང་།
Recite this as many times as possible. Then:
སྐབས་འགར་སྣོད་བཅུད་སྣང་བ་ཀུན། །
བླ་མ་འཇམ་དཔལ་དཔའ་བོ་ཡི། །
གནས་གསུམ་ཕྱག་རྒྱའི་རོལ་པར་བལྟ། །
རང་སྣང་སྤྲོ་དང་བསྡུ་བ་ཡི། །
རྩལ་སྦྱོང་དག་ལ་ཡང་ཡང་འབད། །
On occasion regard all appearances—environment and inhabitants—
As the play of the mudrā of the three centres
Of the guru and heroic Mañjuśrī.
Exert yourself repeatedly in the trainings
Of emanating and reabsorbing self-manifestations.
ཐུན་མཐར་དགེ་བ་བསྔོ་བ་ནི།
At the end, dedicate the merit with:
དགེ་འདིས་མཐའ་ཡས་སེམས་ཅན་ཀུན། །
gé di tayé semchen kün
Through this virtue, may all infinite sentient beings
ཀུན་མཁྱེན་ཆོས་ཀྱི་རྒྱལ་པོ་དང་། །
künkhyen chö kyi gyalpo dang
Realize the state of the omniscient King of Dharma
འཇམ་དཔལ་ཡེ་ཤེས་སེམས་དཔའ་ཡི། །
jampal yeshe sempa yi
And the wisdom being Mañjuśrī
གོ་འཕང་ཚེ་འདིར་མངོན་བྱས་ཏེ། །
gopang tsé dir ngön jé té
Within this very lifetime,
སྲིད་གསུམ་གྲོང་ཁྱེར་སྟོང་གྱུར་ཅིག །
si sum drongkhyer tong gyur chik
And may the citadel of the three worlds be emptied.
ཅེས་སོགས་ཐུན་མོང་དང་ཐུན་མོང་མ་ཡིན་པའི་སྨོན་ལམ་གྱིས་རྒྱས་གདབ་ཅིང་བླ་མའི་ལམ་ཁྱེར་དང་མ་བྲལ་བར་བྱའོ། །
Seal the practice in this way with common and uncommon prayers of aspiration, and then do not part from the integration of guru practice.
ཅེས་པའང་དགེ་སློང་ཀུན་དགའ་རབ་རྒྱས་ཀྱི་ངོར། འཇམ་དབྱངས་བློ་གྲོས་རྒྱ་མཚོས་ཐ་སྐར་ཟླ་བའི་ཚེས་བཅུ་ལ་སྨྲས་རིམ་བཞིན་བསྐུལ་བ་པོས་ཡི་གེར་བཀོད་པ་འདིས་ཀྱང་དཔལ་ལྡན་བླ་མའི་བྱིན་བརླབ་སྙིང་དབུས་སུ་འཇུག་པའི་རྒྱུར་གྱུར་ཅིག །སརྦ་དཱ་མངྒ་ལཾ།། །།
Thus, in response to a request from the bhikṣu Kunga Rabgye, I, Jamyang Lodrö Gyatso, spoke these words on the tenth day of the Aśvinī [i.e., ninth] month, and the one who made the request wrote them down. May this become a cause for the blessings of the glorious guru to penetrate the core of our hearts. Sarvadā maṅgalam.
| Translated by Adam Pearcey with the generous support of the Khyentse Foundation and Tertön Sogyal Trust, 2023. (Longer mantra extracted from Chanting the Names of Mañjuśrī translated by Ryan Conlon and Stefan Mang.)
Source: 'Jam dbyangs chos kyi blo gros. "kun mkhyen klong chen pa'i bla ma'i rnal 'byor/" in 'jam dbyangs chos kyi blo gros kyi gsung 'bum. 12 vols. Bir: Khyentse Labrang, 2012. (W1KG12986). Vol. 4: 85–88 & 89–922
Version: 1.2-20230130
↑ Oṃ—O you whose nature is the non-existence of all phenomena, whose vajra[-essence] is fully pure—a ā aṃ aḥ! All phenomena are by nature completely pure—to explain, [they are completely pure] based on their being the complete purity that is Mañjuśrī, the wisdom body of all tathāgatas—a āḥ! Seize, seize the heart of all tathāgatas! Oṃ hūṃ hrīḥ—O Blessed One, wisdom body, lord of speech, whose speech is great, who is all Dharma, whose essence is the wisdom of the Dharma realm that is completely pure like stainless space—āḥ!
↑ Note that this text appears twice in the same volume.