Ten Royal Sūtras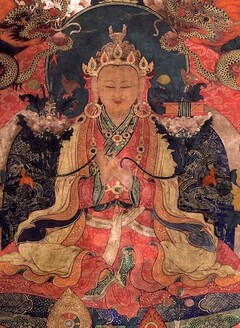 Further information:
Outline of the Ten Royal Sūtras
by Mipham Rinpoche
Oṃ svasti!
With the right-spiralling conch of auspicious indications,
The medicine that eliminates all the maladies of existence,
And the sweet harmonious nectar that is supreme peace—
May auspiciousness reign forever in the three worlds.
I shall now explain the nature
Of these illusory impressions,
Which appeared to earlier generations,
According to what arose in the clear mirror of my mind.
They appeared as if the blessings of the enlightened speech
Of the second buddha of this Snowy Land,
The supremely magnanimous bodhisattva
And champion of peace, had taken form.
Through the virtue of briefly setting down
Their synoptic outlines as a secondary expression,
May all beings attain accomplishment through the study and practice
Of these ten sūtras, which were objects of the king's own meditation.
May this be a cause for serving the precious teachings of the victorious ones. Siddhirastu! Written on the 23rd of the third month.
| Translated by Adam Pearcey, 2021.
Bibliography
Tibetan Edition
Mi pham rgya mtsho. gsung 'bum/_mi pham rgya mtsho. TBRC W23468. 27 vols. Paro, Bhutan: Lama Ngodrup and Sherab Drimey, 1984-1993. http://tbrc.org/link?RID=W23468 Vol. 8: 219–221
Version: 1.1-20211115