History of the Kīla of Lightning-Forged Meteoric Iron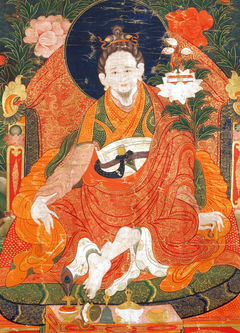 Further information:
The History of the Kīla of Lightning-Forged Meteoric Iron, the Material Treasure of the Blazing Hayagrīva and Garuḍa
by Jigme Lingpa
Homage to the Blazing Wrathful Guru, Hayagrīva and Garuḍa!
The history of the Kīla Dagger of Lightning-Forged Meteoric Iron is as follows. As a sign that I was to receive the material treasure, which was to become the cause for the arising of the Dharma cycle of the Blazing Wrathful Guru, Hayagrīva and Garuḍa, the following happened. The government had requested me to perform a smoke offering at Mount Hepori. During the performance of the smoke offering, I had a vision in which many beings of the eight classes of spirits convened. In particular, Vajrasādhu,[1] wearing a monk's lower garment,[2] appeared and offered me a kīla dagger that emitted sparks of fire. He said that this kīla was used by the great master Padmasambhava to tame the nāga of Maldro.[3]
Later, in the afternoon, together with the monk Gedön I went to the place where the stone statue of the Lord was unearthed. He asked many questions about meditation and this caused my mind to lose any sense of reference. In that state, I came across a boulder under which there grew a tuft of grass. When I removed it there was some charcoal[4] and piled up stones. Amidst it all, I found this kīla, firmly stuck. I was entirely sure, beyond any doubt, that it was made of a kind of bronze alloy, no different from very fine zikhyim[5] that contains meteoric iron and that it had the nature of the eight classes of spirits.
The manner in which the cycle of the Blazing Hayagrīva and Garuḍa was then revealed in the winter of that year is clearly stated in the main text.[6] Since this Dharma brings extremely swift blessings, it can overcome hindrances caused by damsi spirits and clear away threats to life.[7]
When Kogom Chönyi was practising in retreat, he witnessed a frog open its mouth and make three prostrations as if in shock.[8] In addition, a magpie dove into a lake, snatched a snake by its tail and pulled it out.[9] The snake's head was aflame. He became afraid that this practice might be very harmful to the powerful nāgas, and so, after having recited ten million mantras, he ended the retreat. It is clear, therefore, that this Dharma and this material treasure[10] are antidotes to evil nāgas.
It is said that if the Secret Mantra Vehicle is kept secret you will accomplish it, and so I have not yet divulged this to anyone.
Written for Queen Ngangtsul Gyalmo.[11] Guhya! Seal, Seal, Seal!
| Translated by Han Kop and reviewed by Josh Capitanio for the Longchen Nyingtik Project, 2022. With gratitude to Tulku Rigdzin Pema for carefully reading through the text and to Stefan Mang and Patrick Gaffney for their valuable suggestions.
Bibliography
Tibetan Source
'Jigs med gling pa, "rta khyung 'bar ba'i gter rdzas phur pa gnam lcags thog rgod kyi lo rgyus bzhugs" In gsung 'bum/_'jigs med gling pa, 9 vols. Lhasa. (BDRC W1KG10193) Vol. 8: 5–6
Secondary Sources
Khyentsé Wangpo. Jamyang Khyentsé Wangpo's Guide to Central Tibet. Trans. Matthew Akester. Chicago: Serindia Publications, 2016.
Ronis, Jann. "Derge Queen Tsewang Lhamo," Treasury of Lives, accessed November 24, 2022, http://treasuryoflives.org/biographies/view/Tsewang-Lhamo/13187.
Version: 1.0-20221124