Takhyung Barwa Series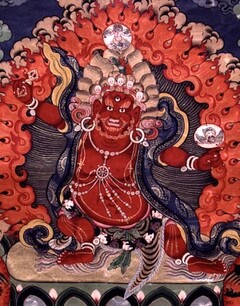 Further information:
Hūṃ. The body of the wrathful guru is captivating, heroic, and fearsome.

His speech, the display of Hayagrīva, is menacing laughter, stern and ferocious.

His mind of the garuḍa of primordial wisdom is compassionate, awesome, and peaceful.

To the deity who tames all negative forces, I offer homage and praise.
Texts related to Takhyung Barwa (rta khyung 'bar ba), a practice from the Longchen Nyingtik that combines the three deities Hayagrīva, Garuḍa and Guru Drakpo, and is renowned for its capacity to subjugate negative forces and cure disease:
Commentaries
Dokpa
Empowerment
History
Lineage Prayers
Sādhanas
Related Topics