Translations of Tibetan Buddhist Texts
English | Deutsch | Español | Français | Italiano | Nederlands | Português | 中文 | བོད་ཡིག
Every text on the site is downloadable in EPUB, MOBI and PDF formats
---
Latest major translation
Added 4 June 2021
A Few Words of Commentary: To Clarify The Essence of Nectar: Graduated Stages of the Path—Advice for Renunciant Meditators
| Advice
Khyentse Wangpo composed this commentary to The Essence of Nectar: Graduated Stages of the Path (lam rim bdud rtsi'i snying po) at the request of Chöying Palden, who had also requested the original root verses. The text covers every stage of the paths according to the vehicles of the transcendent perfections (pāramitā) and secret mantra.
---
June 2021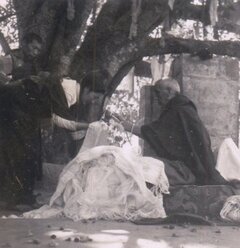 Prayer for the Long Life of Jamyang Khyentse Chökyi Lodrö and Khandro Tsering Chödrön | Long Life Prayers
Jamyang Khyentse composed this brief prayer for his own and Khandro Tsering Chödrön's (1929–2011) longevity at the request of Muksang Rinpoche Pema Kunzang Rangdrol (1916–1984). Read text >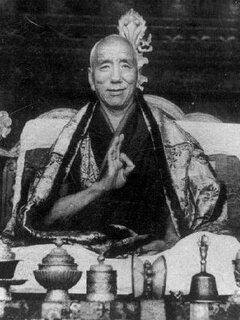 This practical instruction in just a few lines covers the path of Dzogchen, or the Great Perfection, by highlighting only its most crucial elements. Read text >
---
Other recent additions
June 2021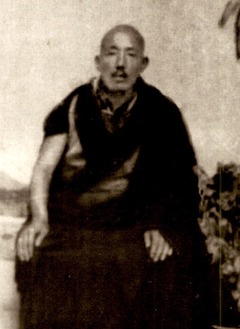 Brief Biography of Kharlek Tulku Pema Kunzang Rangdrol | Biography
This brief introduction to the life and works of Kharlek Tulku Pema Kunzang Rangdrol (1916–1984) was originally written as an introduction to the master's non-sectarian Dharma history. Read text >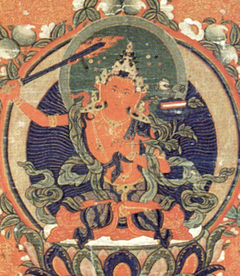 A Prayer to Mañjuśrī | Prayers
An invocation and supplication of Mañjuśrī together with other deities of the three kāyas and figures from the Dzogchen lineage including Apang Tertön (alias Trinlé Lingpa) himself. Read text >
---
May-June 2021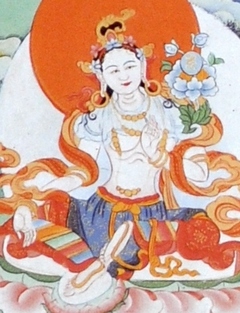 A Sādhana of Tārā Sarasvatī | Longchen Nyingtik
This daily practice of Tārā Sarasvatī belongs to the Inner Female Practice (Yumka) of the Heart Essence of the Vast Expanse (Longchen Nyingtik), A Treasure Vase Containing the Essence of Great Bliss, through which all enlightened activities are carried out based on the Twenty-One Tārās. Read text >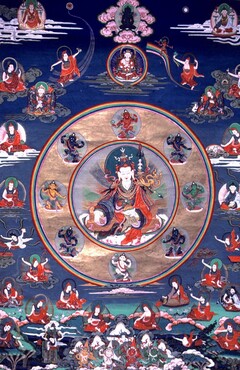 A Brief Practice of Consecrating Amṛta for the Vidyādhara Assembly | Longchen Nyingtik
Verses for consecrating 'medicine' (sman), or amṛta, as part of the Rigdzin Düpa (Vidyādhara Assembly) practice from the Longchen Nyingtik. Read text >
---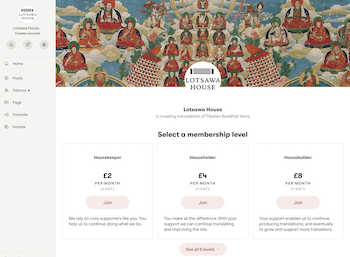 Become a patron
Please consider supporting us with as little as $2 per month on Patreon. We rely on the generosity of patrons to continue translating important, interesting and inspiring texts and making them available 'on the House'.
---
Highlights from archive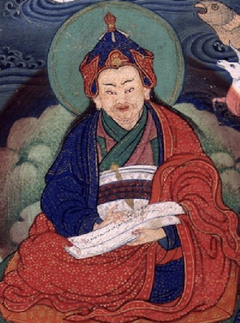 The Pointing-the-Staff Instruction | Advice
One of the better known instructions from the collection known as Responses to Questions, Advice from the Guru's Direct Instructions (bla ma dmar khrid kyi zhal gdams zhus lan skor), which is included in the Precious Treasury of Revelations (rin chen gter mdzod). The text contains simple advice from Guru Padmasambhava for his elderly disciple, Ngok Sherab Gyalpo. Read text >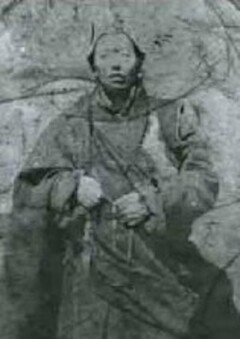 Advice for Urgyen Tsomo | Advice
Six lines of essential advice from the Fifteenth Karmapa Khakhyab Dorje to his spiritual consort, the celebrated ḍākinī Urgyen Tsomo (o rgyan gtso mo, 1897–1961). Read text >
---
* Lotsāwa ལོ་ཙཱ་བ་; lo tsā ba n. Title used for native Tibetan translators who worked together with Indian scholars (or paṇḍitas) to translate major buddhist texts into Tibetan from Sanskrit and other Asian languages; it is said to derive from lokacakṣu, literally "eyes of the world". See also paṇḍita.